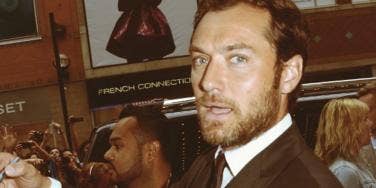 Fertile! These 11 celebs dads have big broods.
So, by now you have likely heard that English actor Jude Law has sired his fifth child. Law has five kids with three different mothers and while he and this baby mama, singer Catherine Harding, are no longer in a relationship, they are getting ready to welcome a child in the spring. Law is 41 and he was once in a long-term relationship with Sienna Miller, but it's apparent that the actor gets around and is fertile. But he's not the only famous father who could start his own soccer team with his offspring.
Bruce Willis has five daughters, while Kevin Costner has seven kids. Then there is Mel Gibson, with his brood of eight.
Lots of actors who were once (and still) considered heartthrobs on the big screen have procreated mightily and often, most with a variety of women, save for someone like, you know, Brad Pitt, who has six kids with new wife and longtime partner Angelina Jolie.
Being a baby daddy is a both an expensive and a time-consuming gig, so it's a good thing these 11 celeb dads with big broods are actors with plenty of money in their reserves with which they can support their spawn. Kids ain't cheap.
At the end of the day, these celeb dads with a propensity to procreate are not only financially supporting their children. They are also being present fathers, which is even more critical.
Jude Law
1. Jude Law: Fertile indeed. Law has five kids. His tally is two boys and a girl with former wife Sadie Frost, as well as a daughter with a model ex. His most recent ex is expecting his fifth.
Photo: IMDB
Diddy
10. Diddy: The rapper and mogul has six kids and billions of dollars, so do the math and come up with this answer. He never has to worry about things like child support. Here's how the Sean Combs' Family Tree shakes out: Five biological kids, three baby mamas and one stepson.
Photo: IMDB
Mel Gibson
9. Mel Gibson: The actor, who has been felled by lots of issues in recent years, has eight kids, seven of which were produced during his long marriage to ex-wife Robyn. M&R had six sons and a daughter. Gibson then went on to have another daughter with Oksana Grigorieva, and we all know how THAT went, thanks to the leaked tapes of him screaming all sorts of obscenities at her.
Photo: IMDB
Clint Eastwood
8. Clint Eastwood: Dirty Harry sired seven kids with five mothers. They are daughter Kimber, son Kyle, daughter Alison, son Scott, daughter Kathryn, daughter Francesca, and daughter Morgan. Father's Day must be fun in his house.
Photo: IMDB
Kevin Federline
7. Kevin Federline: Six is K. Fed's lucky number. He and ex Shar Jackson have a daughter and son (Kori and Kaleb), while he and former wife Britney Spears have two sons (Sean Preston and Jayden James). He and current wife Victoria Prince have two daughters (Jordan and Peyton). Overall, the Fedster certainly has a lot of responsibility.
Photo: IMDB
Steve Harvey
6. Steve Harvey: The comedian has a brood of seven kids. He has three children with his first wife and one from his second marriage. He is also stepdad to his second wife's kids, upping the total.
Photo: IMDB
Kelsey Grammer
5. Kelsey Grammer: The actor has sired six kids with four different mothers. He has two toddlers now, as he is pushing 60.
Photo: IMDB
Bruce Willis
4. Bruce Willis: Willis is outnumbered in his family, having sired all daughters. He has Rumor, Scout and Tallulah with ex Demi Moore, and two daughters, Mabel and Evelyn, with present wife Emma Heming.
Photo: IMDB
Kevin Costner
3. Kevin Costner: The actor has seven kids -- three with his first wife, a son with a former girlfriend and three kids with his current wife.
Photo: IMDB
Brad Pitt
2. Brad Pitt: The Jolie-Pitt brood is arguably Hollywood's most famous, with adopted sons Maddox and Pax, adopted daughter Zahara, biological baby girl Shiloh and biological twins Vivienne and Knox. Three boys, three girls. The family is totally adorbs!
Photo: IMDB
Eddie Murphy
11. Eddie Murphy: His comedy act often referenced how the wives of famous men often took half of their hubby's fortunes when no pre-nups were in place. But in Murphy's case, it's his eight children that could be a drain on his resources. Murphy has five kids with ex-wife Nicole. He also has two other sons with two different women. Add to that a daughter from a brief fling with Scary Spice, who was actually born on Murphy's birthday. Trivia!
Photo: IMDB
Previous
Next
BEGIN