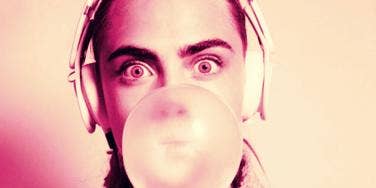 In case you needed proof for why she should just be crowned queen already.
I didn't think it was possible but Cara Delevingne managed to give the world one more reason to fall in love with her. After months of speculation regarding her sexuality, Delevingne put the rumors to rest in an epic way. Earlier this week, she posted an image on Instagram (that you can see below) showing her support for the Self Evident Truths Project, a campaign that aims to document 10,000 photos of people who "identify as anything other than straight" and fit on the LGBTQ scale. She captioned the photo "Doesn't matter who you are or what you believe it (sic), we are one! Go get yourself one of these shirts right now! I'm late for National Coming Out Day but better late then never. Don't be scared to be who you are. Please follow @iolovesyou and @selfevidentproject because #WEAREYOU."
If I didn't love and respect her before, I definitely do now. By doing this, she basically came out on her OWN terms instead of giving into the mass hype surrounding all of her relationships. I can't imagine having to constantly keep one eye on your back when hanging out with pals just to avoid people questioning if that friend is really a friend. This should go without saying but your sexuality should never have to be a part of a debate. Her choice to put herself out there in such a big way will pave the way for everyone who has ever been too afraid to be themselves. If you've ever wanted to know the reasons why people are so obsessed with her (and pretty much think that she's an awesome human being), I can give you ten.
Photo: Weheartit
1. She Supports The LGBTQ Community.
By rocking this shirt from the Self Evident Truths Project, she is proving that she isn't afraid to stand up for herself and others. Everyone deserves to be treated with the same respect regardless of their sexuality. Thank you for giving everyone a voice!
Photo: Instagram
3. She's Compassionate.
Not only is she ridiculously beautiful, she's also really compassionate! In an interview with Industrie magazine, she mentioned that she is always willing to listen to her fans and offer advice: "They talk to me about anything, really – eating disorders, depression, family problems, especially because they know the things that may have gone on in my life, stuff with my mother. It's really sweet. It's horrible, the stuff they go through."
Photo: Weheartit
4. She Knows How To Work Dem Brows
Ms. Delevinge's eyebrow game is SO serious.
Her secret?
"You just don't pluck them. It's really simple. I mean, I do, obviously, a little bit, because otherwise I'd have a monobrow, but it's just about keeping them wild, keeping them free and woolly." — Cara Delevigne
Photo: Weheartit
5. She's A Fashionista.
She's the queen of fashion, hands down. She recently launched her collection with DKNY featuring a tomboy meets chic look and it is FABULOUS!
Photo: Weheartit
6. She's Talented!
This girl is a triple threat; she has modeling, acting, and singing chops. Did I forget to mention that she's also a beast on the drums?
Photo: Weheartit
7. She's Friends With Pretty Awesome People.
She has an epic bromance with Rihanna and Rita Ora (and that's just to name a few of her friends). Looks like we're not the only ones who can't get enough of her.
Photo: Weheartit
8. She's Down To Earth.
Based on her interviews, videos and social media presence, she seems like she would be a pretty cool person to chill out with.
Photo: Weheartit
9. She's Obsessed With Social Media.
There's nothing more refreshing than a star who is just as obsessed with selfies and instagram (and twitter) as you are.
Photo: Weheartit
10. She's An Animal Lover.
Not only is she a proud dog mum, she also carries her pet bunny Cecile everywhere she goes. Could this be any more adorable?
Photo: Weheartit
Previous
Next
BEGIN