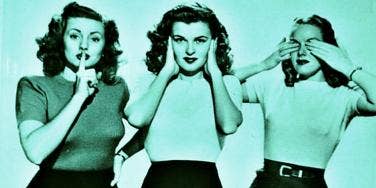 After reading how crazy these sound, you may as well come right out and just say the word!
Enough is enough. For some reason, whenever we talk about female sexuality, a huge level of shame and discomfort seems to cloud the air. You can't say vagina without throwing people into a tizzy. Yet, when it comes to talking about a man's body, we're not as camera shy.
There's no denying that some progress has been made. The "Free the Nipple" movement has been gaining a lot of traction in the media because of the major stars supporting the (totally spot on) cause. Rather than celebrate body positive movements like this, we 're still mentally stuck in the 1950s.
My case and point? The word "vajayjay". Who knew that Grey's Anatomy's Dr. Miranda Bailey would basically be creating a monster when she famously coined this silly name. Why is that we can't bring ourselves to talk about our bodies without resorting to cutesy, politically correct nicknames? It almost seems as if people conveniently forget that vagina is actually a medical term; it's not like it's something vile that was conjurred up just to throw people off and make them feel on edge.
I don't know about you but I think it's high time that we put an end to this. We're all adults here. Sexuality is a natural part of the human experience so it really shouldn't be that hard for us to just own up to it.
Seriously, let's stop the madness and call it like it is! Constantly resorting to these "user friendly" names only dances around the real issue at hand. People are so uncomfortable with—and appalled by—female sexuality that they would rather describe it using ridiculous terms than be straightforward and get right to the point. I'm not saying that we should shout it from the rooftops but come on, there is absolutely nothing attractive about the nickname "vag"!
In fact, I'm pretty sure we spend more time trying to come up with ways to avoid saying "vagina" than actually saying it. This is just a glimpse at the names that we seriously need to ditch.
Photo: Weheartit
1. Vag
This sounds like something you would scream in a duel: "Behold, the Vag attack!"
Photo: Weheartit
2. Lady Bits
This pretty much takes it all the way back to Pre-K.
Photo: Weheartit
3. Vajayjay
This is what it sounds like when your doctor tries to give you "the talk". Grey's Anatomy, thank you again for creating a monster by making "vajayjay" a thing.
Photo: Weheartit
5. Axe Wound
The imagery of this one alone is disturbing enough. I can't unsee this.
Photo: Weheartit
6. Pink Taco
This is just wrong on so many levels.
Photo: Weheartit
7. Snatch
Seriously, am I the only one who thinks this sounds like some kind of disease?
Photo: Weheartit
9. Moose Knuckle
I don't even want to know why this is a thing.
Photo: Weheartit
10. Black Hole
This is pretty tame compared to the others.
It still needs to go.
Photo: Weheartit
Previous
Next
BEGIN