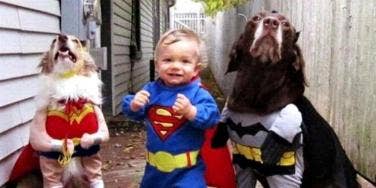 And best dressed for Halloween goes to...
Pumpkins, colorful leaves, sweet apple cider, and crisp air. Fall is here, and with the season comes a spook-tacular day enjoyed by many: Halloween. It's one of the most fun holidays of the year. We get to dress up and impress those around us with our creativity and hard work in coming up with our costumes. And for some of us, this means we run out of time and get to showcase our acute laziness: "What? This cat-ear headband I'm wearing clearly makes me a cat. Meow. Purr."
For the outgoing souls who coordinate with friends or family, I say kudos to you! It takes extra effort, but it usually pays off. One of my favorite things about Halloween is seeing children in costume – how can you not smile at that pudgy baby dressed as a bumblebee? It gets even better when pets are dressed up. And it's the BEST when the two are combined. The following cute creatures show absolutely no signs of laziness when it comes to their matching Halloween costumes, and frankly I think they put even the most creative of us to shame. Check out these kids and how they coordinated their Halloween costumes with their dogs!
To the rescue!
These guys put the "super" in superheroes.
Photo: sunnyskyz
To the stars, Luke.
I can't get over how cute this is.
Photo: kidnimble
It's tea time, Pooch!
These princesses are so sweet.
Photo: tumblr
Now that's wicked creative
Tell me how to get to Sesame Street
Big Bird and Kermit know what's up.
Photo: kidnimble
We're off to trick-or-treat
Could the Yellow Brick Road look any cuter?? We don't think so!
Previous
Next
BEGIN