Photo: HGTV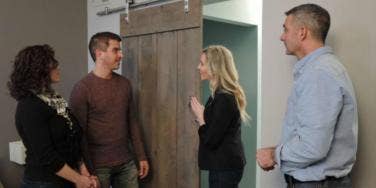 Open freaking concept, people!
You turn it on and think to yourself, "OK, I'll watch one episode and get some work done after that."
This is probably the worst mistake you've ever made because four hours later, you realize that you haven't moved off the couch.
You are screaming at a couple for choosing the most horrendous house ever, and you would know because after multiple hours on HGTV you're the expert, not these people.
In case you didn't know, House Hunters is actually fake.
Yep, a former house buyer came forward in 2012 and said that on the show, they already closed on a house and then toured two fake ones.

You would think that would make people stop watching it, but people really just want to see pretty homes and watch couples bicker.
It's actually surprising that they only have 20 or so episodes on Netflix.
I've found that the more I watch it, the more annoyed I become with the people who get weirder and weirder as the episodes drone on.
What do you mean you want carpet, lady? It's not 1980; get out of here.
Here's a collection of 16 thoughts that everyone probably experiences as they watch House Hunters.
1. There better be some good houses this episode.
Seriously, if I'm about to get sucked in to a five-hour marathon I better see some nice places.
2. Oh God, they're already arguing.
Thus begins my breakup countdown.
3. Who are these people?
What do you mean you want a place for your turtles?
4. What town is this?
Seriously, this place isn't real, how are you buying a four bedroom for $200,000? Ugh, living in NYC was a huge mistake, although I would never want to live by these people.
6. Okay, your wish list is out of control.
You seriously can't have all those things on that budget.
7. Your budget is $150,000…
…and you want how many bedrooms and a huge kitchen? Stop expecting a Jacuzzi, rooftop pool, acres of gardens because you can't afford it. #reality
8. Man caves aren't even a thing.
Seriously, men need to stop talking about man caves. Grow up and get an office sir.
9. "But where will his clothes go?"
If another woman says this when they see the closet, I am going to kill myself.
10. Why are you acting like the appliances are permanent?
You know you can buy a new microwave and fridge in any color you want right? Also, carpet and paint aren't permanent either.
11. Are they even going to be together at the end of this?
I think this couple hates each other.
12. Ugh, this lady is the worst.
Why are the women always crazy monsters?
13. Oh God, that place is awful.
Stop saying you like this, I don't understand.
14. You picked the "affordable shack?"
I don't know why I am watching this.
15. They are definitely going to break up.
Most couples have 100 percent opposite views. I give them a year of decorating this place together and it will be over.
16. Has anyone turned down all three?
I need to watch the next episode just in case there's a rogue couple even though I know it's fake and they've already picked one. God damn you HGTV.
Previous
Next
BEGIN