Photo: AMC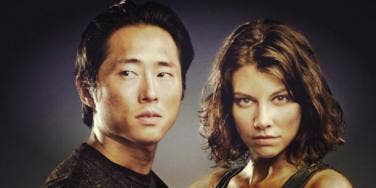 A look back at their love story. ** sniff **
Even when reanimated corpses are trying to eat your face, there's still time for love. The show The Walking Dead may be about the zombie apocalypse, but it isn't just blood and gore. It's about how people running for their lives can still find love.
Glenn (RIP) and Maggie proved that you can find love in a hopeless place. They're part of what has made The Walking Dead so great. Their impossible love story gave everyone hope. OK, so they weren't the two BEST characters on the show (that'd be Daryl Dixon and Michonne, and maybe Carol Pelletier, but they're not dating), but Glenn was an original! Watching him scream while he watches as the undead unfurl and eat his organs was heart-wrenching.
What made Glenn and Maggie great is that they acted like a real couple actually dealing with the zombie apocalypse. That's got to be hard, to date someone when everyone that's ever died has risen from the grave and is trying to eat you. That makes romance a little tougher than usual, right? I mean, long walks through the park on out on the beach would be out of the question. These two made it work, though. Here's why we loved them together so much:
They had the same hobbies.
It's always great when your significant other enjoys the same things you do. Both Maggie and Glenn enjoyed not getting eaten alive by zombies, and they did it together all the time.
Photo: AMC
They listened.
When one sent the other a message, the other one listened. And then they ended up in a cannibal camp. But they were together!
Photo: AMC
They were passionate, but appropriately.
Isn't it the worst when couples make out in public? Glenn and Maggie only showed PDA when it was appropriate. Just because it's the end of the world doesn't mean everyone has to be uncomfortable.
Photo: AMC
They both helped with the workload.
Sometimes, people just let their significant other take care of them. Not these two, they both took every opportunity to pick up a gun and put somebody down.
Photo: AMC
Looks never mattered to them.
You know you love someone when you still think they're pretty even when they're not wearing makeup. Or covered in blood and guts. That's when you know.
Photo: AMC
They used protection.
Hey, since it's the apocalypse, it might not be the best time to get pregnant. Maggie and Glenn seemed to understand this a lot better than Lori did.
Photo: AMC
They had passion!
When dead people wake up and start walking around eating everyone, it has to be hard to still get excited about normal things. These two still got excited when they saw each other, even in the middle of a zombie herd.
Photo: AMC
They looked so cute together!
Didn't they just look adorable in that matching body armor? They took surviving the apocalypse and turned it into a couples event.
Photo: AMC
They were realistic.
Not every couple agrees on everything. Also, once again, it's the end of the world. So when someone's being dumb, you have to shut it down quick. Also, when you're being dumb, you can't get upset when you get shut down.
Photo: AMC
They supported each other.
It's the end of the world, so that means even the little things are gone. Like toothpaste. Everyone's breath is probably awful, but that doesn't stop never stopped Glenn from being there for Maggie, and vice versa, even though it's got to smell just awful right there.
Photo: AMC
They had good, clear communication.
Communication is the backbone of a good relationship. Clearly, as Maggie's note to Glenn demonstrated, they knew how to talk to each other.
Photo: AMC
Previous
Next
BEGIN