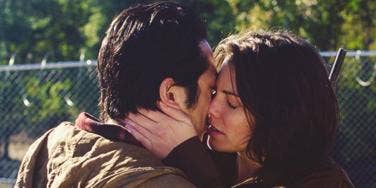 What advice does Andrew Lincoln have for apocalypse survivors? We'll tell you!
It's that time of the year again. Nope, we aren't talking about Halloween, although it very much has to do with zombies and bloody gore. We are talking about another season of The Walking Dead! Last season had a bunch of twists and turns. The apocalypse has had a huge effect on the group in ways that no one could have ever imagined.
We have seen so many relationships be torn apart during the show's existence that we can't help to call into question whether sustaining a relationship in the apocalypse is even possible. Sure Maggie and Glenn are hanging in there but they are the only ones since Rick and Lori, Tyreese and Karen, along with Beth and Jimmy are just some of the couples that have ended due to a partner dying.
So after years of being on the show what kind of love advice would one of these actors give in order to ensure your relationship survives the apocalypse? Luckily, we have the answer! We were able to ask Andrew Lincoln, otherwise known as Rick, what his love advice would be for someone who wants to their relationship to stay intact during the apocalypse.
"Keep the person alive would be the first obviously a priority. After that find a love boat somewhere," Andrew Lincoln advised.
So how in the world would you keep your lover alive when zombies start taking over the world? There are five ways! Look through our slideshow below to find out.
1. Get Walker Pets
Michonne will alway be awesome for coming up with this idea. Get a walker and chop off its arms and hack off the lower jaw, then pull them along with you guys by rope. Other walkers will assume you are a zombie therefore they will leave you alone.
Photo: weheartit.com
2. Stick Together
It maybe hard, but physically sticking together is your best bet in surviving. Don't try to be a hero by checking on something alone.
Photo: weheartit.com
3. Get At Least Two Weapons Each
We suggest something that can shoot long range like a gun or crossbow, then get something that is deadly but silent like a samuari sword.
Rick Photo: weheartit.com
Michonne Photo: weheartit.com
4. Get a Love Boat
Who are we to argue with Rick? Getting a boat would help you get to new land if yours has already been overrun. It will also give you both a break from running from walkers.
Photo: weheartit.com
5. Try To Keep You Partner's Spirits Up
Beth and Andrea have both wanted to opt out on surviving the apocalypse. To keep your partner from wanting to do the same you have to show them that there is still something to live for. Keep your partner's spirits up by rolling off a few jokes, going on raids for frivolous things like pudding, and remincing about the good ol' days.
Photo: weheartit.com
Previous
Next
BEGIN