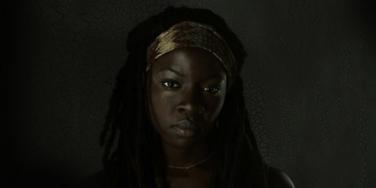 Michonne is the bravest and biggest badass on 'The Walking Dead.' Here's why.
The Walking Dead is one of those shows where I don't know if I like it or not. I watch it, I've seen every episode, but if someone asked me if I liked it I wouldn't know how to answer. I like the comics it's based off of, but the show is very different than the comics. For example, things happen a lot in the comics. On the show, things happen occasionally, and then the characters spend three or four episodes discussing what just happened.
The one thing that I know for sure that I like about the show is the cast. I really like the majority of the characters on the show, and most of the ones I don't like end up getting killed off anyway. Which is super satisfying, because they usually get eaten, and that's the best way to see someone you don't like die. One of the best characters is the sexy Michonne. She's basically ripped right out of the comics, where she's also a sexy badass. She's the one with a sword and pet zombies. I mean, the zombie apocalypse happened, and instead of freaking out, she got herself some pet zombies. That's amazing (and sexy). Here's why she's the best! But beware if you're not caught up: past season spoilers ahead!
Michonne doesn't negotiate.
When she was taken hostage by The Governor, she and Hershel reacted in two distinctly different ways. Hershel tried to reason with The Governor, and she just stared at his neck until she got the opportunity to stab it.
Photo: IMDB
She uses a silent weapon.
A big thing in the show is that zombies are attracted to sound. While almost every other idiot is running around shooting loud guns, she was like "Oh, how about I use this super quiet but way more effective sword?" Yeah, I guess that does make sense...
Photo: IMDB
Michonne keeps good company. The best company.
Daryl Dixon, the other survivor to figure out that guns aren't the only weapon, is a good friend of Michonne. She essentially ditched Andrea for Daryl, which is a HUGE upgrade, because Daryl is awesome and Andrea was the living worst.
Photo: IMDB
She doesn't lose Carl.
During the first two seasons of The Walking Dead, the running joke was always "Where's Carl?" Carl Grimes is the young son of the main character, Rick Grimes, and Carl was always wandering off because no one was watching him. Of course it always led to trouble, because IT IS THE ZOMBIE APOCALYPSE AND YOU SHOULD KEEP AN EYE ON YOUR CHILD ALL THE TIME. Michonne showed up, and now Carl knows to behave himself or else he'll get a sword to the face.
Photo: IMDB
Michonne gets along with everybody.
When Merle betrayed The Governor, he thought he could get back on The Governor's good side by kidnapping and delivering Michonne to him. During the car ride, Merle got to know Michonne a little bit and then decided that she was too awesome to let her get killed. She didn't even have to fight her way out, she just won by being herself! (And by curb-stomping some walkers, but still.)
Photo: IMDB
Michonne always comes prepared.
Seriously, it seems like Michonne the only one on the show (other than Daryl Dixon) that understands that the world came to end, so if you're going to travel, it's best to bring your own supplies. Everyone else still thinks that they're just going to run into a convenience store or something on the way.
Photo: IMDB
Michonne had pet zombies!
As previously mentioned, she kept pet zombies. This did two things. First, it kept other zombies from bothering her, and second, it made her look cool. Both things are super important.
Photo: IMDB
Michonne can ride a horse.
I don't know how to ride a horse, so I just always find it impressive when someone does. A horse is a living creature, how do they control it? It's crazy!
Photo: IMDB
Michonne killed Andrea.
Yeah, I know Michonne was friends with Andrea, and Andrea's death was a super emotional scene, and blah blah blah. The point is, Andrea was worse than useless, and Michonne was the one to finally kill her. Good job!
Photo: IMDB
Michonne doesn't need a team to survive.
Michonne doesn't need the other survivors to protect her, she'd be fine on her own. While Rick is crying because he just wants to grow carrots, she's slicing through an entire horde of zombies.
Photo: IMDB
Previous
Next
BEGIN