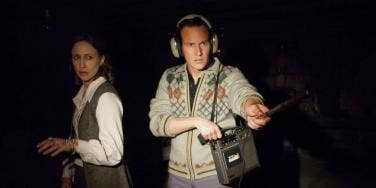 Do not date these creeps!
Hey ladies, sometimes you just gotta dump that chump. I find myself saying that a lot when I watch movies. Dumb or dopey boyfriends are a big trend in Hollywood. It's really easy to create some sort of conflict, pair up a regular old gal with some buffoon and see what happens! An it's the worst in horror movies. In other genres, the guy is just a bad boyfriend. In scary movies, however, his bad relationship skills are getting people killed. Which is way worse than just like, not supporting his girlfriend's dreams or something. These guys really are the worst boyfriends ever. They're either trying to murder their girlfriends (which is not cool), or they're trying to use her as a bargaining chip with some demon (super not cool). This isn't a case of expecting too much out of people's standards. Here are 10 guys who deserve to get dumped!
John Gordon from Annabelle
The husband from Annabelle isn't that bad of guy. His only crime is that he's the one that bought the doll, which wasn't even posessed at the time. Still, its a super creepy doll and he's a bad husband just for buying that awful gift to begin with.
Photo: IMDB
Shaun from Shaun of the Dead
Hey ladies, if it takes the end of the world for your boyfriend to start treating you right, that's just too little too late. Shaun seems like he wants to be a nice guy, but he's super self absorbed. Even at the end of the movie, when he's supposed to be changed man, he still keeps a zombie chained up in the house so he can play video games with it. Yeah, it's more important to have a video game buddy than to make sure your girlfriend isn't always in grave danger.
Photo: IMDB
Billy from Scream
Scream was supposed to be a movie where the killer's idenity was a mystery, but it was obviously going to be the creepy boyfriend. His dad had an affair with her mom, so he decides to kill her. Wait, what? Not only is he a killer, but his motivation barely makes sense. UGH!
Photo: IMDB
Guy from Rosemary's Baby
Being a dad and supporting a family is obviously going to be stressful. You know what the right solution to your money problems is? NOT SATAN. Seriously, and he makes the deal without even telling his wife about it? What a ZERO!
Photo: IMDB
Dolarhyde from Red Dragon/Manhunter
Hey, don't date a serial killer. Of course he's going to try to kill you at some point. That's what Reba from Manhunter found out when she started dating the Tooth Fairy killer. If he's a serial killer, then he won't be a good boyfriend.
Photo: IMDB
Micah from Paranormal Activity
This guy is really dumb. Micah thought his condo was haunted, so he started filming stuff. He also did a bunch of stuff to antagonize the demon, which resulted in his death and his girlfriend's posession. Hey, I know as a guy you want to look tough, but don't antagonize demons. Just don't.
Photo: IMDB
Trent from Friday The 13th
The Friday the 13th remake introduced us to Trent, who decides that since a serial killer is out there murdering his friends, he should cheat on his girlfriend. I mean, his girlfriend interrupts him in the act to be like "Hey, some crazy guy in a hockey mask is killing us all," and he decides to finish having sex first. There's just all sorts of wrong there.
Photo: IMDB
Ash from The Evil Dead
Ash seems like a cool guy, but don't ever date him. After he barely survives the first Evil Dead movie, what does he do? He brings his new girlfriend back to the same cabin from the first movie and then "accidentally" opens the portal again. This of course gets his girlfriend killed, because OF COURSE IT WOULD.
Photo: IMDB
Chucky from Child's Play
In the Child's Play series, Chucky just seems like a typical serial killer for the first few movies, albeit stuck in a doll body. Then, in Bride Of Chucky, you find out he has a girlfriend. Who he then transfers her soul into a doll body. Hey Chucky, NO ONE WANTS TO BE A DOLL. What a rude thing to do. This guy is super selfish!
Photo: IMDB
Jack from The Shining
Ok, I know that Jack and Wendy were married, but still. He's a real jerk! Just because he was super bored and his novel wasn't going well and a bunch of ghosts were telling him to do so, that's no excuse for trying to kill his wife and child with an axe.
Photo: IMDB
Previous
Next
BEGIN