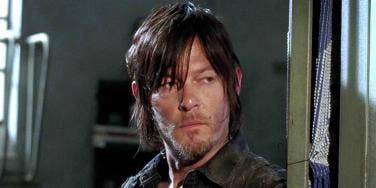 Daryl Dixon is basically the Ryan Gosling of 'The Walking Dead.' Here's why.
It's Norman Reedus' birthday and what better way to honor the AMC hit The Walking Dead than by worshiping the favored and deeply flawed Daryl Dixon?
(In case you didn't catch that, it was a reference to Judas. Norman Reedus stars as Judas in Lady Gaga's video for "Judas." Got all that? Good.)
Out of all of the relationships, romances and sexual tension on the series, no one has stoked the communal fires of female zombie fans more than Daryl Dixon. After all, there is no merch anywhere that says "If Abraham dies, we riot!" Only Daryl. He is the fan favorite, a hero, an antihero, a beauty, a beast and a cardboard cutout in my kitchen, because who are you to judge me?
Though Daryl doesn't appear at all in The Walking Dead comics, he remains a driving force of the plot of the series, whether he's inadvertently getting the group into trouble or saving them from otherwise certain disaster. The only character even close to being as beautiful and flawless is Michonne (played by Danai Gurira) ... but more on her later. (We promise!)
Sit back, take a drink (preferably in a deserted cabin that you'll later burn) and drink in the gorgeousness that is Daryl Dixon. But also be warned: This contains spoilers for previous seasons!
1. Daryl Dixon has that hair.
No matter how short, long, matted, greasy or filthy Daryl Dixon's hair gets, it somehow always looks perfect. Because he is perfect.
Photo: AMC
2. Daryl Dixon knows how to accessorize.
Even in the zombie apocalypse, Daryl Dixon understands the importance of looking your best. That's why he has a necklace made out of severed ears.
Photo: AMC
3. Daryl Dixon has strong family values.
Even when the rest of the group didn't take kindly to Merle Dixon — and fairly so, considering he was a bigot and a blowhard and at first one step away from an older Sean Hannity — Daryl stood by his blood and looked out for him even when they were separated.
Plus, Merle turned out okay (for a while at least). He got a knife for a hand. Daryl's actions turned Merle into a real-life half-Baraka from Mortal Kombat. Can we please take a minute to appreciate how badass that is?
4. Daryl Dixon has a sensitive side.
Daryl Dixon isn't afraid to show you how he feels, and he's not too manly to cry when he needs to. Which is really only when his brother gets bitten and becomes a walker and oh my God, how can you stand looking at him weeping and not become a blubbering mess yourself? Don't you just want to hold him? And maybe do other things later when he calms down? Yes. Yes you do.
5. He doesn't let his feelings get in the way of his duty
Daryl Dixon broke down and sobbed when he found his beloved yet embattled brother, Merle, had turned into a walker. But after a moment or two to process his emotions, Daryl stabbed the crap out of him in a move that was both an emotional release and a practical necessity. And really, really heartbreaking.
Photo: AMC
6. Daryl Dixon knows how to forgive.
Remember when basic bitch Andrea shot Daryl Dixon? He let it go. When someone shoves me on the subway, I silently envision bludgeoning them to death with a Snapple bottle. This is a man we all should look up to. (And yes, I am deliberately ignoring the presence of Carol here, because this is back when Carol was also a basic bitch.)
Photo: AMC
7. Daryl Dixon conquered his demons and came out stronger.
From hints of an aforementioned methamphetamine addiction to a racist family to alcoholism to abusive parents, Daryl Dixon overcame his issues and became a compassionate, strong and damn handsome guy.
8. Daryl Dixon has hunter instincts.
When Daryl Dixon wants something — be it food, meth (remember his crystal baggie that was a nod to Breaking Bad?), or whatever — he goes after it. I'll leave any other gutter-minded implications of this photo to you.
Photo: AMC
9. Daryl Dixon has a good immune system.
Daryl Dixon never caught the bug that went around the prison, despite indirectly swapping a lot of germs with infected residents. That means his offspring will be strong and amazing for continuing our species in the apocalypse. That means his offspring won't be dumbasses like Carl Grimes, who just never stays in the damn house.
Photo: AMC
10. Daryl Dixon won't kiss and tell.
Daryl Dixon is a man who knows how to be discreet. You've seen the way he sneaks up on walkers and evil living people alike. (For example, remember when he used a walker as a human shield, then threw a grenade into a tank? He blew up a tank. He blew up. A tank.)
Photo: AMC
11. Daryl Dixon comes prepared.
Whether you need a knife, a flashlight, a poncho or to eat a rabbit, Daryl Dixon has got you covered. This means he probably also won't say he conveniently "forgot" his wallet. Or a condom, though let's be real, he's totally worth trapping with a baby. Speaking of ...
Photo: AMC
12. Daryl Dixon is great with kids and babies.
Daryl Dixon is amazing with babies. And he gave Judith the amazing nickname "Lil' Asskicker." If you'll excuse me, my ovaries are crying.
Photo: AMC
13. Daryl Dixon is patient.
Daryl Dixon never ended his search for Carol's daughter, Sophia, even when everyone else gave up hope. He put up with Beth's whining and uselessness. (Seriously, what is her purpose in the zombie apocalypse? No one needs a singer in the zombie apocalypse.) He's never kicked the crap out of Carl. If and when Daryl Dixon dies, he won't turn into a walker. He will be canonized and become a (Boondock) saint.
14. Daryl Dixon might be gay.
Goddammit. The good ones almost always are.
Previous
Next
BEGIN