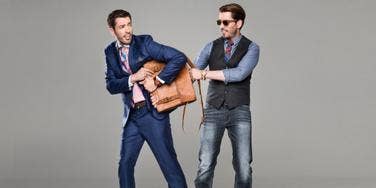 15 reasons to keep swooning on this dreamy duo.
You religiously watch their shows on HGTV, you follow (OK more like stalk) them on Twitter, Facebook, Pinterest and Instgram, but can you count 15 reasons to love the Property Brothers without mentioning their dreamy good looks? Neither could we. But we also found 14 entirely non-shallow reasons to keep crushing on this seriously hot pair.
It doesn't matter whether you're into men with good bodies, a strong mind, or a charming wit about them, Drew Scott and Jonathan Scott likely tick just about every must-have off your "perfect guy" list, from their laugh-out-loud humor and musical talents to how good they are with kids.
And now that their insanely addictive show about buying and renovating homes is finally available to binge watch on Netflix (rejoice!), it's possible to spend an entire day (or weekend) on the couch with the adorable brothers in your pajamas and slippers. Your boyfriend won't mind your drooling. Chances are, he's probably addicted to the show too, so make some room. Hey, double the fun.
Take a break (it'll be quick, promise) from your incredible ProBros marathon to check out our 15 swoon-worthy reasons to love the Scott brothers — even more than you already do!
1. They've got the tall, dark and handsome thing down pat!
Both brothers clock in at 6'5", have gorgeous dark locks, and, in our humble opinion, are extremely handsome. And on top of all that they've got some seriously adorable dimples. What's not to love about that?
14. They give good dating advice.
In a recent interview with Glamour they revealed some serious insight into the male dating psyche, and while it may not help you land one of the Property Brothers (unless you're lucky!), their sage advice (like the best way to give a guy criticism is to just tell him straight) can definitely help you out in your next relationship.
13. They're good with kids.
Both Drew and Jonathan have been known to tweet and Instagram pics of them with their nephew. Based on the photos (and Jonathan's admission during our Twitter chat that he's good with kids), the brothers know how to turn your ovaries to jelly.
12. Like your men funny? You're in luck!
In their spare time they're a part of a sketch comedy troupe and like to practice their improv when they get the chance. All we're saying is that on the next season of Whose Line Is It Anyway? we'd like to see these two make a guest appearance.
11. Drew and Jonathan understand that exercise can do a body good.
(And boy are we glad for that!) Jonathan obviously has a physically demanding job with all the heavy lifting and knocking down of walls he does during renos, but in college Drew studied Kinesiology and has even worked as a personal trainer.
10. They're more than two pretty faces, who can sell you a house!
In all seriousness, these two are successful businessmen with a handful of hit TV shows and a production company on the side. Very little is sexier than an accomplished and hard working man. Except maybe two.
9. If Twitter's not your thing, Drew and Jonathan are on Pinterest
When it's time to take a break from planning your dream wedding, check out their suggestions for home décor. Getting their help via Pinterest to design your bedroom (or, you know, other parts of your home) is almost as good as being one of the lucky homeowners on the show. At least that's what we're going to keep telling ourselves.
8. Every so often they respond to their doting fans on social media.
Both brothers are crazy active on Twitter and they make a point interact with their followers. They even schedule Twitter chats from time to time. So if you don't already follow them (@MrDrewScott and @MrSilverScott), get on it!
7. They know a thing or two about making a house a home.
Just knowing that there are men out there who know how to thoughtfully pick out a home, drive a sledgehammer through the walls, and design a beautiful space without forgetting to take into account your personal aesthetic gives us the warm fuzzies as we click through our online dating profiles. Giving us hope that more men like them exist: just another reason to love Drew and Jonathan.
6. Their show is likely scripted. So what?
On their hit HGTV show, their banter and bickering is likely scripted, but those brief moments of goofy brotherly jesting makes them even more attractive.
Who doesn't love a guy with a sense of humor that won't get offended when you poke a little fun at him?
5. Taking Names And Breaking Hearts? Check!
Jonathan once turned down the opportunity to date 25 women on national television.
That's right, he was asked to be The Bachelor and said no. Have to a respect that, as much as we'd love to be one of the 25 women. But that's ok, because he's single and, with the help of his brother Drew, ready to mingle!

4. The pair is musically inclined!
While a guy with a guitar can make pretty much any girl swoon, the twins were actually competitive bagpipers as kids. It might not be the sexiest instrument, but they did it to embrace their Scottish heritage. The best reason to love this trait? The Scott brothers know how to rock a kilt. See Jonathan look dashing in the traditional Scottish outfit here.
3. They know how to dress.
Whether you like your men suited up or dressed down, both of the Scott brothers are pros at pulling off either type of look. On their show Drew is the buttoned up real estate agent, but he looks equally as hunky in this pic wearing a casual Henley. On the other hand, Jonathan is practiced at the flannel-and-jeans look on Property Brothers, but based on this photo it's clear he knows his way around a three-piece suit too. Look at that smolder!
2. Did we mention that they're twins?
If it wasn't for their different haircuts and distinct clothing styles on the show (which are totally just based on their job description), we'd be lost at telling them apart. But when twins are as good looking as these two, identical just means twice the tall, twice the dark, and twice the handsome!
15. Single and ready to mingle!
Last but in absolutely no way least here's a fact that's definitely worth dancing about: the Scott brothers are single!
And by single we mean not married.
Previous
Next
BEGIN