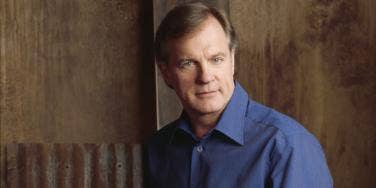 Stephen Collins confessed to child molestation. He's not the only star who damaged our nostalgia.
What was your favorite TV show or movie or song when you were a kid? It doesn't matter what the answer is because whoever made probably ended up committing some horrific crime.
Stephen Collins confessed, inadvertently on tape, to molestation of several children, one being his niece. Stephen Collins. The dude who played a minister on 7th Heaven and was constantly surrounded, while on set, by a ton of children. Great.
Everything we loved as children was made by monsters to help fuel their insatiable appetites for human suffering. Seriously, it's pretty rough. I'm not just talking about Kirk Cameron either. He just grew up to be a jerk that tells people that they're going to Hell. I'm talking about real, hardened criminals. At this rate, it wouldn't surprise me if the person who voices Big Bird is a cannibal or if the voice of SpongeBob uses real sponges to clean up all the blood from his victims. Here's 10 actors that were important to our childhoods that ended committing some terrible crime.
Matthew Broderick
Ferris isn't exactly a saint either. Matthew Broderick struck and killed the inhabitants of another car while on vacation in Ireland. He paid a small fine for the incident, because he's just so laidback.
Jeffrey Jones
The guy who played the principal in Ferris Bueller's Day Off was arrested for posession of child pornography. Really changes the dynamic of the whole principal chasing down a student plot in the film.
Stephen Collins
7th Heaven was a show about a wholesome family. Stephen Collins, the guy who played the dad (and a minister) apparently molested a bunch of girls, which is totally the opposite of wholesome.
The voice of Elmo
Everyone watched Sesame Street, and Elmo was one of the most famous characters. Multiple charges of child abuse were filed against the voice actor, Kevin Clash, thus destroying our faith in humanity. And Muppets.
Eddie Furlong
He was supposed to be the future leader of humanity, but Eddie Furlong grew up to be anything but. He's accused of domestic assault more often than he's appeared in movies lately.
Rebecca Gayheart
Rebecca Gayheart had a promising career going, which explains why when she struck and killed a child with her car, she didn't spend any time in prison.
Ian Watkins
The LostProphets was one of those bands you listened to as a teenager because they totally understood you and your life. Also, the lead singer had sex with babies, so he's a monster.
OJ Simpson
Everyone these days knows all about OJ Simpson. Back during the first trial, it was pretty shocking because he seemed like such a goofy guy in The Naked Gun films.
Sean Penn
If you thought Spicoli was a fun loving, goofy character, that's just because Sean Penn was able to hide his inner monster from the camera. Google the horrific details of his marriage to Madonna and never sleep again.
Previous
Next
BEGIN