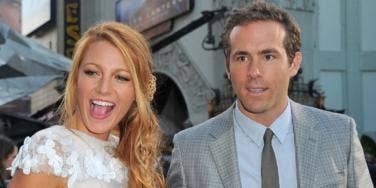 Newly expecting Blake Lively and Ryan Reynolds will be great parents. Here's why!
OMG! That genetically blessed, A-list couple Blake Lively and Ryan Reynolds, who married in 2012, are expecting their first child. His ex-wife Scarlett Johansson may have beat him to the punch by reproducing first, having given birth to a daughter in August, but he remarried before she did so they are sorta even when it comes to that whole moving on thing.
But right now, it's all about Lively and Reynolds, and the bun in her oven.
We are like shaking and crying over the fact that Lively and Reynolds are going to be parental units. We. Can't. Even.
Lively and Reynolds are a golden couple, blessed with a crazy and unfair amount of good looks and boatloads of talent that they will no doubt pass along to their child-to-be. That kid is already pulling ahead of the pack even though it's in utero!
But both the Gossip Girl star and the former fiance of Alanis Morissette appear to be down-to-earth and both lack that icky pretense that often comes along with those who dwell and work in Hollywood. That's why we are pretty certain that Lively and Reynolds are going to be super duper awesome parents. Here are 10 reasons why we think that.
It's Ryan Reynolds' time!
1. This guy looks so ready to be a dad. He's 37. He is successful. He is married to a gorgeous gal. Fatherhood is the next logical step.
They've survived big, public heartbreaks.
9. Both have survived high-profile romances. She was linked to that serial dater of beauties known as Leonardo DiCaprio, while he was briefly wed to Scar Jo. They weathered those storms.
Blake Lively is cheery!
8. Is it us or does Lively, Blake always look happy, like a ray of sunshine? That's crucial when raising an infant.
Blake Lively is more home-y than Hollywood.
7. Lively has proven to have other interests than acting with her Preserve website. That's also where she announced her pregnancy, whereas many of her peers would have gone the publicist and press release/press statement route. Again, she is not the Hollywood type.
Blake Lively came out of young Hollywood relatively unscathed.
6. She has experienced so much success in a business that eats its young that she can teach her son or daughter a lot of about life.
They're crazy in love.
5. Lively and Reynolds are a solid, united duo. That is important when it comes to bringing a new life into this cray cray world.
Their tyke will be super creative.
4. Since the parents-to-be are creative, they are passing their talents on to their offspring.
Their genes!
3. If you were a kid, wouldn't you want these two as parental units?
Ryan Reynolds is down to earth.
2. Reynolds seems like a cool, relatable dude, one that we could see tossing a football with his son or having a tea party with his daughter.
Blake Lively and Ryan Reynolds shun the spotlight.
10. They fly well below the Hollywoo radar, despite each being A-listers in their own right. That indicates that both are down-to-earth instead of Hollywood snobs who love the celeb element of their jobs.
Previous
Next
BEGIN