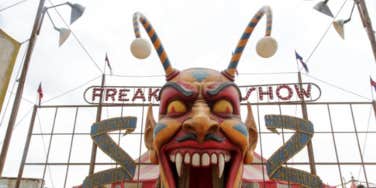 Everyone get ready for a 'Freak Show!'
American Horror Story is back, and this time it's full of freaks. The TV horror series will take place this season in Jupiter, Florida, at a circus freak show. The people that live in the area are going to try and shut the show down because you know, people don't really want bearded ladies and people with two heads hanging out around town.
Enter, the creepy murderous clown. He probably starts killing people because that's what clowns do, they scare people. Maybe you're obsessed with American Horror Story and maybe you're not. If you don't really know too much about it, then here is the only thing that you need to know: each season has a different storyline and different characters. You can watch any season in any order because even though the actors are the same, each season stands alone, which is one of the things that makes it amazing and unique. We are kind of obsessed (with the show and with Evan Peters), and seeing as how it's one of the only semi-horror TV shows, it's the perfect October show to start watching. In honor of the show's return to FX tonight we have put together a list of 17 things you may not know about the series.
1. You can go visit the AHS murder house in Los Angeles.
It's located at 1120 Westchester Place and it's just as creepy in person. They replicated the interiors on set.
2. Ryan Murphy and Brad Falchuk are the creators of Glee.
Yep, the twisted minds that created AHS also created Glee.
3. They also created Nip/Tuck.
Basically Murphy and Falchuk have been all over the place with their shows.
4. Emma Roberts and Evan Peters are engaged.
They played costars in Coven and Freakshow, but the couple began dating in 2012 and are currently engaged.
5. There are only five actors who appear in every season.
Jessica Lange, Sarah Paulson, Lily Rabe, Francis Conroy and Evan Peters appear in every season of the show.
6. Kit Walker is a Falk character.
Evan Peters plays Kit Walker in Asylum but he has the same name as Lee Falk's "The Phantom" character.
7. The murder house was also in Buffy.
It was the frat house in the Halloween episode of Buffy the Vampire Slayer.
8. The opening credits have a message.
Ryan Murphy said that by the 9th episode in every season, each sequence in the opening credits would make sense to the viewer.
9. Kyle Cooper has a big role in the show.
A name that you don't know but he is the genius behind the opening credits of the show and he also created The Walking Dead credits.
10. Jessica Lange wasn't going to be in seasons 2-4.
Falchuk and Lange became close friends when she played Constance in season 1. She was supposed to have a small role on one season, but ended up playing the main character in seasons 2 and 3.
11. Tom Garvey from The Leftovers...
...was supposed to be in AHS. Chris Zylka was offered a two episode story arc in Asylum, but when he refused to shave his head, he was fired and they cut all the scenes with his character.
12. Saying goodbye to Jessica?
This is supposedly Jessica Lange's last season on the show. We are hoping that she reconsiders.
13. They have taken home eight Emmys.
Jessica Lange has won twice for her supporting actress roles and their on-set hairstylists have also won twice.
14. Adam Levine was in Asylum.
Maybe you forgot, but Maroon 5 lead man made an appearance with Mrs. Channing Tatum as a newlywed couple who sneak into Briarcliff and die (obviously).
15. Francis Conroy is Barney Stinson's mom.
The evil maid, the Angel of Death and Myrtle Snow are all the same woman who play Mrs. Stinson on How I Met Your Mother.
16. Pepper was kicked off set.
Remember Pepper from season 2? Well she would spend three hours in hair and makeup and once Naomi Grossman was kicked off set because security didn't recognize her.
17. Delphine LaLaurie and Marie Laveau are real.
Kathy Bates played the infamous Delphine LaLaurie. She was in fact known for torturing and murdering slaves. Angela Bassett's character was real too, known for her Voodoo in New Orleans in the 1800s.
Previous
Next
BEGIN