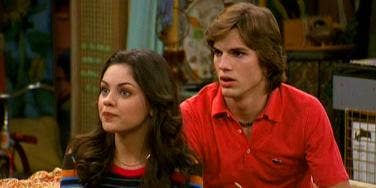 Ashton Kutcher and Mila Kunis grew up together.
Ashton Kutcher and Mila Kunis grew up together. Kunis was only 14 when she starred on That 70s Show with Kutcher, who she says was her first kiss. (Don't worry, it was for the show — no need to call the police on ole' Kutch.) Years later, after they both dated a slew of celebs (January Jones, Brittany Murphy, Demi Moore, Macaulay Culkin and a rumored dalliance with Justin Timberlake, to name a few), they found one another and love blossomed.
So did a baby. And then a ring. Cute!
Now that Kunis and Kutcher have welcomed their little gal into the world, let's take a look back at just why they're so great together, as well as why they'd make the coolest parents ever. You know, if her dad can remain committed to her mom, that is. (And dude, he'd better, because the entire world pretty much adores Mila Kunis and will have his hide if he breaks her heart.)
Both her parents are good at video games.
This means rainy days won't be lame.
Their lives are basically a fairy tale.
Seriously, how romantic is their love story?
Their child won't be sad to learn Santa isn't real.
For two reasons: Mila Kunis is Jewish and Ashton Kutcher can't act, so there's no way the kid would buy it anyway.
Dad will be able to teach her all about man-whores.
Because, well, he knows from experience. They could have named their daughter Karma, you know.
Playing dressup will be a breeze.
Because Ashton already let Mila make him pretty on That 70s Show.
They're tech-savvy.
You know this little lady will have the latest gadgets ... and that dear old dad will put the proper parental controls on them.
Mom's great at girl-talk.
Mila (as Jackie) gave the most insipid and shallow yet best advice ever.
They're protective.
Mila Kunis was a badass in Max Payne, while Ashton Kutcher wielded weapons in the box office bomb Killers. So gentlemen, be careful when you line up to take this lady out.
She'll know how to spot a creep.
After all, her dad worked with Wilmer Valderrama for years.
She has super-smart grandparents.
Mila Kunis' mom, Elvira, is a physics teacher, and her dad, Mark Kunis, is a mechanical engineer. Imagine all the help with her homework she'll get!
Ashton is used to dealing with bratty girls.
After all, Mila can be real witch. This baby should be a piece of cake.
Previous
Next
BEGIN