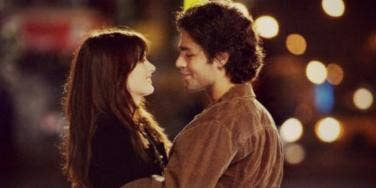 We have a lot of questions that need to be answered, people.
Twihards across the world are freaking out more than usual: Twilight is getting a mini-series on Facebook. It sounds like the cast will not reconnect for the project, and there aren't anymore books in the series so it's pretty up in the air of what this series will be about. The project has yet to announce a director, since they are holding a contest to find a female director.
The panelists who will pick the lucky winner include actresses Kate Winslet, Kristen Stewart, Octavia Spencer and Julie Bowen, director Catherine Hardwicke and writer Stephanie Meyer. If this all turns out to be a success, there is no doubt other movies will get the "Facebook mini-series" treatment. Hasn't Twilight had enough installments? Producers should turn to other romantic movies instead.
In order to help this new trend along, we came up with 7 rom-coms that deserve a Facebook mini-series instead of Twilight! Do agree with our rom-com movie list? Let us know what you think should be transformed into a mini-series in the comments.
Photo: weheartit.com
1. Love Actually
Photo Credit: HereIsTheCity.com
This movie would be great as a mini-series since the cast is so big and there are multiple storylines. It also doesn't hurt that this rom-com has won the hearts of so many people. The scene between Juliet (Keira Knightly) and Mark (Andrew Lincoln) pretty much made every woman weak at the knees, but did they end up working out in the end? Hopefully this mini-series would give us the answer!
2. The Devil Wears Prada
Photo Credit: telegraph.co.uk
Yes, the story between Miranda and Andy is quite resolved, but what about a mini-series with Andy's successor? What would that poor young woman or young man's story be like? If Emily Blunt or Meryl Streep somehow signed on for this project then there is no way it can fail!
3. 50 First Dates
Photo Credit: DerekWinner.com
This can go on and on since Drew Barrymore's character can't remember. Do she and her husband ever have a kid? If so how does all of that play out? Perhaps even going the light hearted route by just showing more first dates between the movie's main characters would cut it. Since Drew Barrymore and Adam Sandler like working together this is a total possibility.
4. He's Just Not That Into You
Photo Credit: Bustle.com
Like Love Actually, this movie had a bunch of storylines that audiences would want to check back in on. Did Ana (Scarlett Johansson) or Janine (Jennifer Connelly) ever find anyone? Are all the couples still happy?
Another idea is ditching the whole cast all together and showing more signs that he's just not into you with a new single woman who is pretty clueless about the dating scene.
5. Hitch
Photo Credit: ElliottBack.com
Perhaps this mini-series would be a prequel. What other desperate souls came to Hitch in order to find love? This movie was so hilarious that audiences will definitely get some laughs out of the new series.
6. How To Lose A Guy In 10 Days
Photo Credit: FanPop.com
You know how most magazine articles tend to get recycled? Well perhaps Andie Anderson gets a new dating article that also involves torturing single men. Of course it doesn't have to be Andie since we are assuming she is forever going to be happy with Ben. It could be a completely new character.
7. What's Your Number
Photo Credit: Blu-Ray.com
This is such a fun concept that could play out in so many different ways depending on the character! Instead of checking in with Ally, this mini-series can follow another distressed young woman who doesn't want to sleep with more than 20 guys in fear that she won't find love.
Previous
Next
BEGIN