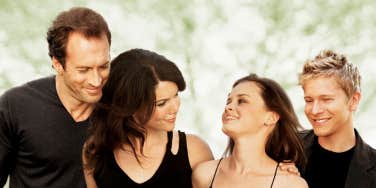 "Oy with the poodles already!"
Last month Netflix announced that they would be adding the entire Gilmore Girls series on Netflix. Well, happy October! The day is finally upon us. We can go back and watch our favorite mother-daughter duo talk really fast.
We've missed Luke, Logan, Miss Patty, Kirk and even Taylor (sometimes). Maybe you have the series on DVDs so this really isn't a big deal to you, but for those of us who have been waiting since 2007 to re-watch this series, this is the best news to happen ever. You thought that watching Lauren Graham on Parenthood would relieve your Gilmore Girl cravings, but it's never been able to fill that Stars Hollow-shaped hole in your heart. Ever since they announced the Netflix addition, you've been patiently waiting by prepping your brain full of obscure references that are way over your head. Mainly you've been patiently waiting for Logan, because Logan is the best.
Do you feel like you're a member of Stars Hollow? Maybe you have found your own Luke's Diner, but whatever you do to channel your inner-Gilmore, you're obsessed. No intervention needed here because we're just as obsessed as you are, and now we get to binge watch. Here are 24 signs you're still obsessed with Gilmore Girls.
1. You've debated moving to a small town.
Gilmore Girls has changed the way you look at tiny towns and you want to be a part of it.
2. You want it to be fall all year round.
Have you ever noticed that it's almost always fall in Stars Hollow? We have, and we're jealous.
3. You've named your dog Paul Anka.
Even though you had no idea who that was until the show.
4. Opening an inn seems ideal.
5. Mainly because you want a Michel.
Seriously, Michel is the best.
6. You sent your grandparents an art piece…
7. Becoming a journalist suddenly seemed awesome.
Because Rory Gilmore made it look super fun.
8. You've googled Washington Depot, Connecticut.
And you're planning your next vacation there.
9. The people at your local diner know your name.
You've also started calling your server Luke.
10. Your friends can't understand your banter.
Or keep up with it. It bothers you that they can't be as witty as you.
11. Logan Huntzberger is your dream man.
12. Even though you kind of love Jess.
Because he's an ass and it's hot.
13. No one cares about Dean.
He cheats on his wife. Therefore he's worse than Jess automatically.
14. When you heard GG was going on Netflix ...
... You signed up for Netflix.
15. Private school has never looked so good.
You're still annoyed that your parents didn't send you to one. You could be at Yale.
16. You can't watch Melissa McCarthy.
Because in your heart you know that she will always be Sookie.
17. Lorelai Gilmore is your dream mom.
Seriously, why wasn't your mom as cool as Lorelai?
18. You really want a town troubadour.
Why not? A singing dude? That's awesome.
19. The ending still bothers you.
Are Luke and Lorelai married?! Why was this never answered?!
20. Rory makes you feel dumb.
She's the smartest human ever and it annoys you a little bit.
21. You wish Emily was your grandma.
She has her moments but she's awesome and you know it.
22. You cried when Alexis Bledel and Milo Ventimiglia broke up.
You knew at that moment Rory and Jess would never get married IRL.
23. Coffee is your life.
Lorelai and Rory have made it sacred.
24. "Where You Lead" by Carol King makes you sob.
It just reminds you of all the good times.
Previous
Next
BEGIN