Photo: weheartit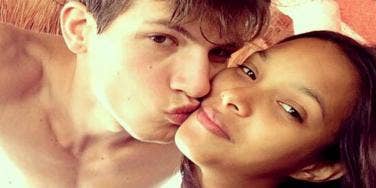 These beautiful pictures of interracial couples abandon racial barriers.
Although it's 2015, racism and racial profiling still very much exist. It's hard to fathom that in this day and age, there are still people who disgrace others based on not only their skin, but who they're dating.
This should go without saying, but sometimes you can't help who you fall in love with — and you shouldn't have to. As long as your relationship isn't illegal or hurting anyone, you should be able to love freely.
Why should the confines of society dictate who you can and cannot be with? It doesn't matter if you're black, white, brown or purple: Interracial dating isn't a crime. And these beautiful love pictures more than prove that.
No one should ever have to feel ashamed of who they're dating; after all, a connection is a connection. When you meet someone that your heart and mind connects with, the color of their skin doesn't matter.
When it comes down to it, we're all one of the same race: the human race. As human beings, we should love who we love and withhold judgment from who others love. After all, love is one of the greatest feelings in the world. Why should anyone have a say in who experiences it?
1 Kissing in the sunset
This is such a picture perfect moment: A beautiful sunset along with a beautiful couple.
2. Talking a walk around town
Life is always more enjoyable with your love by your side.
3. A mixed-cultural wedding
The love they share for each other shines like gold.
4. Love can feel like a fairytale
This beautiful couple looks like they came straight out of a fairytale.
5. Reading together
This cute couple is reading together and living their own love story at the same time.
6. Looking into each other's eyes is powerful.
This lovely couples eye contact says a lot more than words ever could.
7. Saying, "I do"
You can tell that they're madly in love just by the way that they look at each other.
8. Sealing their love with a kiss
This couple's Eskimo kiss is absolutely adorable.
9. Just married
It's charming how fascinated this husband is by his wife's beauty (not to mention her gorgeous smile).
10. Society evolves
This beautiful family portrait just proves that families come in all shapes, sizes, and colors.
11. A military wedding
This couple's love for each other is never-ending, just like the sea.
12. True love extends beyond outward appearances
Because love knows no color (or height!).
Previous
Next
BEGIN