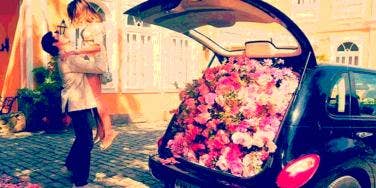 Seriously, leave these alone.
Love quotes, when used appropriately, are like wonderful little gems sent from heaven. They are cute, sweet and oh so lovely. But put in the wrong hands, and love quotes turn into heinous, obnoxious, trite little bits of nothing.
Take Facebook for example. It's one thing to wake up in the morning, check your feed and see something insightful and powerful from Pablo Neruda or Oscar Wilde. That's great. We're all for those kinds of mornings (frankly, we live for them). But what about the days when you wake up and check your Facebook page, only to discover some ridiculous little saying someone dredged up from the most annoying and hackneyed corner of the Internet? Those are the days you just want to throw something at your laptop, and throw said damaged computer out the window.
No one wants to have days like that. So to that end, we went to the aforementioned annoying and hackneyed corner of the Internet and dug up 11 love quotes that we really, really wish people would stop posting on Facebook. This little public service announcement is for the good of all mankind. So absorb these 11 quotes to avoid, and get out there to spread the word.
If you're searching for the best quotes and memes to share with the people you love (or just want to feel inspired yourself) ... look no further! From the sweetest love quotes, inspirational sayings, and hilarious relationship truths, we've got you covered.
Photo: WeHeartIt
Nope.
"Love is an irresistible desire to be irresistibly desired."
Photo: weheartit
Remove, now.
"It's amazing how stupid you can be when you're in love…"
Photo: weheartit
Nope, nope, nope.
"I like the idea. That someone, somewhere is made for you, forever."
Photo: weheartit
No one wants to see that.
"What we all want in live, to travel, fall in love, and be happy."
Photo: weheartit
Stop right now.
"The point is we can't help who we fall in love with."
Photo: weheartit
Delete, delete, delete.
"I want to feel burning flames when you say my name."
Photo: weheartit
Aaaaand, block!
"Falling in love is like jumping off a really tall building; your head tells you, 'idiot you're gonna die' but your heart tells you 'don't worry pretty girl you can fly'."
Photo: weheartit
No one needs to see that in their feed.
"How long they choose to love you will never be your decision."
Photo: weheartit
Really?
"There are all kinds of love in the world, but never the same love twice."
Photo: weheartit
Oh hell no.
"Let all that you do, be done in love."
Photo: weheartit
Previous
Next
BEGIN