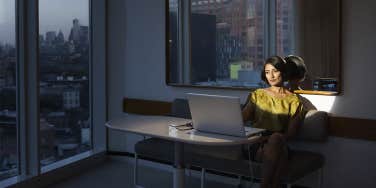 We feel 100% inspired by these ladies. Which of these women is your #ConfidenceInspo?
Ever wanted to just leave it all behind and start from scratch? We know you have that one idea you've always thought would make you a millionaire if only you had the time-- that one thing you really love to do that you'd happily make your career. Or do you have that one dream career ever since you were a kid that you'd love to see turn into a reality?
We rounded up nine women who took something they were incredibly passionate about and made killer businesses. And guess what-- they all built it from the ground up.
From mini cupcakes to curly hair pudding to an online magazine for teens, these nine women are YourTango's daily inspo for those days when we get the most lost. For some people, shaping a business around what you are most passionate about seems like a pipe dream. So how exactly do you begin to turn a profit on your passion? Well, we don't have an exact formula (we wish), but these women have some pretty inspirational stories. We even got to sit down with Melissa Ben-Ishay of Baked By Melissa and talk about what goes through her mind daily. Read all about Melissa and our eight other role models below!
If you're searching for the best quotes and memes to share with the people you love (or just want to feel inspired yourself) ... look no further! From the sweetest love quotes, inspirational sayings, and hilarious relationship truths, we've got you covered.
Image source: WeHeartIt
Melissa Ben-Ishay
Not a lot of people can say that being fired from a job incited the best change in their life that they could've made. But when Melissa Ben-Ishay was fired from her media job, she took it as a life-changing opportunity to pursue something she had always been passionate about: baking. Melissa's inspiration came from 60's and 70's rock 'n roll, using that as a carefree baseline to what would become a huge business. In her interview with YourTango, Melissa even said the first song on the soundtrack of her life would be Imagine by John Lennon. The first cupcake she made when she opened Baked By Melissa, serving minature bite-sized cupcakes, was tie-dyed in a tribute to her favorite band-- The Grateful Dead. Now Melissa says she draws her cupcake inspirations from childhood memories. She had this amazing nugget of wisdom to instill in us: "Be nice to everyone. You can achieve anything if you work hard enough."
Image source: Fast Company
Tavi Gevinson
Tavi Gevinson began with a fashion blog called Style Rookie featuring pictures of her in various outfits and commentary on the latest fashion trends that began drawing upwards of 30,000 readers a day. Tavi was 11 years old at the time. Tavi began drawing creative inspiration outside of fashion so in 2011, when she was 15 years old, Gevinson founded Rookie Magazine and became its editor in chief. Rookie Mag is written for young women, by young women about the issues that impact them the most. In her first editor's letter for the magazine, Tavi wrote: "I don't have the answers. Rookie is not your guide to Being a Teen. It's not a pamphlet on How to Be a Young Woman. It is, quite simply, a bunch of writing and art we like and believe in."
Image source: New York Post
Titi and Miko Branch
Miko Branch was a new mom when she stopped perming her naturally textured hair every week. She barely gave the change much thought, but customers at her salon quickly took notice of her mass of curls… and they wanted it too. At a time when most business at their salon was straightening textured hair, Miko convinced her sister Titi that natural hair should be their focus and they took a leap of faith. Miss Jessie's, named after their paternal grandmother, seized a moment when women were beginning to become exhausted of conforming to societal beauty standards and became a huge hit. The hair products might seem simple but Miko and Titi have started a revolution to embrace individual beauty that's backed by the likes of Jada Pinkett Smith and Mary J. Blige.
Image source: Rolling Out
Debbie Sterling
Bothered by the lack of women in the engineering field, engineer Debbie Sterling set out to set a new precedent. She found there was a stark lack of encouragement for young women and girls to go into math and science fields, so she began GoldieBlox, a toy company that makes engineering toys geared towards girls. GoldieBlox was funded within four days of beginning it's Kickstarter campaign and has been breaking barriers ever since. The toy line that "aims to disrupt the pink aisle" has been picked up by stores like Target and Toys 'R' Us and uses toys to tap into spatial and verbal skills to give them the confidence to invent and create.
Image source: One Dublin
Tiffany Johnson
After getting frustrated with the seemingly opposite sides of women's lingerie, comfort and sexiness, Tiffany Johnson left her comfortable executive job and started her own company. Just My Jammies was born out of Tiffany's desire to come home from work and be able to get into something sexy and effortless that wasn't a pair of sweatpants. In an interview with TeenDiaries.com, Johnson said she wanted to capture the "effortless sexiness" that women have in order to help them feel more confident. Her fearlessness to leave an industry that was familiar and brave the unknown is totally inspirational.
Image source: TeenDiaries
Sophia Amoruso
You can read all about it in her new memior, #GIRLBOSS, but Sophia Amoruso was a basement-living, dumpster-diving shoplifting wild child in 2002. In 2008 she took her eBay store, where she was selling vintage clothing at an incredible markup, and started her own company: NastyGal.com. In 2014, NastyGal is worth an estimated $24 million dollars and has been releasing it's own original clothing and shoe collections since 2012. And it's all because of Amoruso's relentless pursuit of style, even when she had to go dumpster-diving for it. NastyGal's incredible 11,200% growth rate in just three years can teach us that being a #GIRLBOSS is serious-- and stylish-- business.
Image source: Parade
Hayley Barna and Katia Beauchamp
Hayley Barna and Katia Beauchamp totally get you. They know it's beyond frustrating shopping for ANYTHING beauty related online. It's essentially the same thing as shopping in the dark; you have no idea what you're buying. So one day in 2010, in their campus apartment at Harvard, Hayley and Katia started Birchbox. They wanted a way for people to be able to test beauty products before purchasing and have now connected with hundreds of brand partners that provide samples to send out to 100,000 subscribers. If you like the sample, you can purchase the full size version easily in the Birchbox store. Barna and Beauchamp were college friends that set out to create the ultimate 360 buying experience and creating a massive startup in the process.
Image source: mattgjfield.wordpress.com
Previous
Next
BEGIN