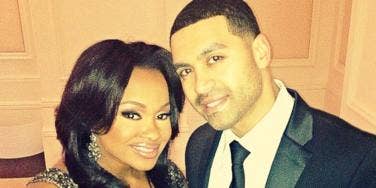 Reality TV shows are often the kiss of death for relationships. Such was the case for these couples.
Real Housewives of Atlanta stars Phaedra Parks and Apollo Nida are headed for divorce after five years, according to Page Six. Trailers for the seventh season of the show even showcase their marital distress.
Reality TV shows are often the kiss of death for relationships. Marriages, passionate romances and long-term, committed relationships have dissolved and gone kaput after the partners appeared on a reality TV show. Maybe these relationships, and the people in them, were already unstable and shaky.
Or maybe the romances were ultimately doomed and apt to crumble under the pressure and emotional weight of TV cameras being around 24/7, capturing the unsavory side of the participants' lives along with the good stuff. Then there is the court of public opinion, silently judging them and their actions.
Not many people can handle the "all eyes on me" aspect of reality TV or the fishbowl nature of this particular beast. There are many reasons and many combinations of reasons as to why reality TV romances crash and burn. The format really is a recipe for disaster … and divorce.
Here are 11 couples that didn't last past their reality show's 15 minutes.
Linda and Hulk Hogan
1. Linda + Hulk Hogan: Hogan may know best about atomic leg drops and ripping "American Made" t-shirts, but marriage? Clearly, that needed some help. Their VH1 show Hogan Knows Best aired from 2005 to 2007. The very blonde, overly tanned couple went their separate ways in 2007, to his surprise. None of this drama boosted daughter Brooke's singing career.
Phaedra Parks and Apollo Nida
2. Phaedra Parks and Apollo Nida: The Real Housewives Of Atlanta stars are the latest reality duo to call it quits. But it's probably not much of a surprise.
Nida, who's heading to jail for eight years for several federal fraud charges, admitted to Atlanta's B-100 radio his marriage was on the rocks back in July.
"It's hell on wheels," said Nida. "My wife didn't even f—-king show up for my sentencing."
Britney Spears and Kevin Federline
3. Britney Spears + Kevin Federline: The train wreck couple had two sons and their aptly-named Chaotic reality show in 2005. The end was nigh, even if they didn't know it. The duo split in 2006.
Kris and Bruce Jenner
4. Kris + Bruce Jenner: They were married, happily so, with two kids of their own and an extended, blended family, along with many reality shows. Maybe too many? Needless to say, things fell apart.
Jessica Simpson and Nick Lachey
5. Jessica Simpson + Nick Lachey: Simpson and Lachey had their life as newlyweds documented on MTV's Newlyweds: Nick and Jessica in 2003, which was filmed when both were minor pop stars. They catapulted to huge fame because of the show, but by 2005, they were on their way to divorce.
Bethenny Frankel and Jason Hoppy
6. Bethenny Frankel + Jason Hoppy: B. Frankel had a lot of reality shows, including 2010's Bethenny Ever After, which focused on her planning her wedding to Hoppy. The twosome parted in 2012 and engaged in an ugly custody battle over their daughter.
Khloe Kardashian and Lamar Odom
7. Khloe Kardashian + Lamar Odom: Reality TV giveth (fame) and reality TV taketh away (romance). These two seemed destined to stay together. They had their own fragrances (titled "Unbreakable" no less) and their own spinoff. Even so, love didn't stop the baller from developing an alleged drug problems and straying from Khloe.
Kris Humphries and Kim Kardashian
8. Kim Kardashian + Kris Humphries: 72 days. Need we say more? The wedding unfolded in lavish fashion with its own TV special and on the cover of PEOPLE. It seemed like it was more about the fairytale than the reality (show).
Dave Navarro and Carmen Electra
9. Carmen Electra + Dave Navarro: The voluptuous actress and rock star starred in a 2004 reality show called Til Death Do Us Part: Carmen and Dave, which was all about wedding planning. They actually wed in 2003 but by 2006, they were dun to the zo, finalizing the big "D" in 2007. Obviously, their reality show title meant nada.
Mama June and Sugar Bear
10. Mama June + Sugar Bear: The common law couple of Here Comes Honey Boo Boo fame appeared to be a loving family, but Sugar Bear reportedly signed up for online dating profile and that forced he and June to rethink things. Fame's a bitch and so is increased attention.
Jon and Kate Gosselin
11. Jon + Kate Gosselin: Eight kids, one really bad haircut and lots of diva antics became too much. The couple, which welcomed ther sextuplets in 2004, parted in 2009. After seeing them bicker on camera on the series, "shocked" would not be a word we use to describe our reaction to the split.
Previous
Next
BEGIN