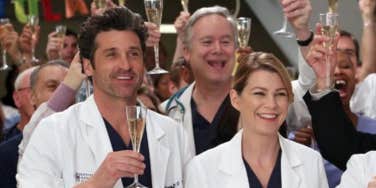 Just like the residents are addicted to surgery, you're addicted to watching them.
Season 10 of Grey's Anatomy was so bittersweet. Spoiler alert: Don't read on if you haven't seen it yet! Christina leaving the show was pretty much a sob fest for those of us who have dedicated almost a decade to Meredith Grey and Christina Yang's friendship. On that note, Derek and Meredith are also on the rocks, which while not unusual, you never know what Shondaland might do at the end of the season. She's like the female version of G.R.R. Martin. What we mean is, neither of them fears killing off main characters and breaking your heart into a million little pieces.
What we have to look forward to is hopefully a new cast of doctors and interns because that's how we survive Grey's Anatomy, new characters after the fall of our old favorites. The premiere is tonight, which means that directly after work we will be heading straight home to plop down in front of the TV with lots of wine for the "Thank God It's Thursday" line up.
Do you often think you might die from the hiccups? Have you thought about becoming a doctor purely because you want to date a few doctor? These are just a few signs that you may be addicted to Grey's Anatomy. Here are 21 more signs you might need a intervention:
1. You go through serious love/hate relationships
…with all of the characters.
2. You've vowed to boycott the show if Meredith and Derek breakup
3. You still really miss Denny
Seriously, he was adorable.
4. And Lexie's death almost killed you
You probably cried for days.
5. The gunman episode almost gave you a stroke
The last time you were that stressed out was when Izzie cut the LVAD wire.
6. That singing episode though
No matter how much you love the show, that episode annoyed you because no one on that show has the singing skills required for that.
7. You constantly try to diagnose your friends
Based off diseases from Grey's.
8. Meredith is your spirit animal
9. Anytime Arizona brings up her leg
You scream at the TV because seriously, move on.
10. You sob every other episode
Every death just kills you.
11. Avery. All day. Every Day.
Seriously, how is April the first one to tap that?
12. You cheered really hard for April and Avery
13. You kind of wish your workplace was like Grey Sloan Memorial
Dramatic, but so much fun.
14. When you get sick you think you may die
Even if it's the common cold.
15. You wonder if happiness even exists
Because no one is ever happy in Seattle.
16. Lexie + Sloan forever
Why didn't they get to be together?! Life is so unfair.
17. Hunt deserves a wife and kids
Stoked for a new love story for him. He deserves love too.
18. The new interns suck
No really, Stephanie, Leah and Shane are all annoying characters. Jo is awesome.
19. Sometimes you binge watch
It's Saturday morning and you're hung over. <i>Grey's Anatomy</i> binge for hours.
20. You only know actors from the show
Anytime a patient from the past is on another show, you only know them from <i>Grey's</i>.
21. Thursdays have become the only day that matters
Thursday nights are your whole life.
Previous
Next
BEGIN