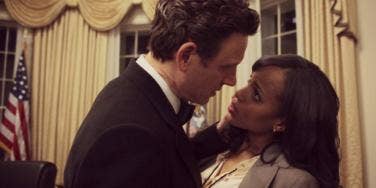 The worst love lessons from the best TV show.
Let's face it, Scandal is so good because the characters can be so terrible to the ones they love. After all, the entire show started on the scandal of Olivia sleeping with the very-much married President named Fitz. Then there was the scandal of him having sex with yet another young girl in the White House —who ended up pregnant and murdered. A lot has happened since then, but the show has never ceased to give us juicy examples of terrible relationship choices.
In its three seasons we have seen so much lying, scheming, killing, amongst lovers that it's pretty hard to keep track of all the characters' love mistakes, but we are overachievers! Yup, we went ahead and collected 10 love mistakes that Scandal's characters have made just for you. Perhaps this list will make you choose between Jake and Fitz if you're still not sure whom you should root for. Hopefully you have definitely learned about what not to do in a relationship from this show. Most importantly, this list should get Gladiators pumped up and ready for this new season! Will there be any love mistakes left for them to make in season four? Only time will tell … but our guess is yes.
Warning: spoilers ahead!
1. Get Over Someone By Getting Under Someone Else
This is a saying, but as we have seen in the Fitz, Olivia and Jake love triangle that things get messy! In a perfect world Olivia would just leave the man who is married for the single, cute guy but she still can't get over Fitz. It would be much better for Olivia to just take a break from both men to really find out what she wants and needs.
Photo Credit: IMDB
2. Have A Baby In Hopes Of Saving Your Marriage
This has been the thought process of many women before, but it is hardly ever true. Mellie and Fitz have been at each other's throats since day one and all of a sudden Mellie gets pregnant again! Yes, it may help keep up appearances, but we have already seen that the new baby isn't making Fitz warm up to her anymore than before her pregnancy.
Photo credit: IMDB
3. Set Up Your Spouse To Be Part Of A Sex Scandal
Oh Cyrus, hopefully you will learn with your next husband. Cyrus tried to get Sally Langston's husband, Daniel to hit on his husband, James in order to out Daniel as gay. Besides the whole violation of trust, this is a terrible idea because his husband would have been forever tied to the scandal. Was he even thinking of their baby when he did this?!
Photo credit: IMDB
4. Get Involved With Your Adversary
Okay, so yeah this storyline is still kind of working out. If you compare it to all the other couples on the show then they are hands down the most functioning couple. But let us bring you back the beginning of this relationship. David was all about taking Olivia and her Gladiators down and was using Abby to do it. Jumping into the sack can definitely cloud your judgment so definitely don't to it with your adversary.
Photo Credit: Black America Web
5. Torture The Person You Like
I'm sure there is a bunch of you Gladiators nodding right now. Huck and Quinn are definitely the craziest couple on the show thanks to their love of tearing humans apart piece by piece. Huck pulled a few teeth out of Quinn's mouth and tortured her. They have since gotten pass all that and have very gross flirting sessions, but it's pretty safe to say their relationship has a terrible history that still taints it.
6. Keep A Devastating Secret From Your Spouse
How would all of those years between Mellie and Fitz would have played out if she only told him why she became cold to him?! Your husband should be the one person in your life that you can bare your soul to. Sadly, Mellie didn't trust him enough to tell her secret and it caused them to drift apart.
7. Lie About Your Sexuality To Your Spouse
Oh Daniel, we know that it was probably a huge struggle for you to try to come to terms with your sexuality. But when you enter a marriage it's only fair to give full disclosure to your spouse about your sexuality if you know it will affect them. Doesn't mean you got what you deserved in the end...
Photo Credit: ABC
8. Let Your Anger Get To A Murderous Point
There is only one exception to murdering your spouse, and the situation between Sally and Daniel was not it! Instead of murdering him she should have perhaps divorced him. But it's a bit late for that now.
Photo Credit: EW
9. Be A Total Hypocrite About Your "Open" Marriage
From day one we have seen Mellie stand by the side lines while Fitz and Olivia have their affair. Mellie seems pretty okay with it besides the times where Fitz decides to totally disrespect her, and when he lets Olivia get in the way of him doing his job. But when Fitz finally finds out that Mellie is also having fun on the side, he can't take it. This of course makes Olivia feel like crap, and makes Mellie feel like she isn't ever allowed to be happy. Get it together, Fitz!
10. Punish Your Partner For Telling The Truth
The one time one of these characters finally does the right thing by telling the truth, and she is punished for it! Once Quinn told Huck that his family is very much alive he turns his back on her. We're not sure if this will truly be the end of them, but it's definitely not the proper response. Especially since the truth being revealed could easily end their relationship.
Photo Credit: theshondalandsource.com
Previous
Next
BEGIN