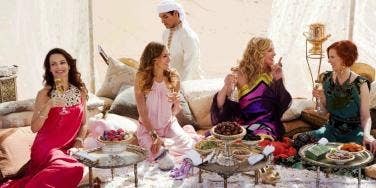 These stars refuse to put a ring on it.
Marriage is that thing that you're supposed to do when you've been dating someone for a while and the girl breaks the guys will and he agrees to throw a big party that they claim is about the both of them but is really all about the girl. (It's also the first time that the birds and the bees are supposed to be invited, but they've probably been around for a while.) It's that thing that you do when you want to force your friends to spend more money in one weekend than they're comfortable spending, especially when it's on you.
We all know what marriage is, obviously. These days, the actual wedding has become a super extravagant event, and not just for rich people. Anybody will spend a huge chunk of their life savings on the wedding, even people whose life savings is just whatever money they still have left in their checking account.
On that note, you know who loves extravagant things? That's right, celebrities! They love weddings, probably because they get to spend a lot of money for a party that's all about them. There are actually some celebrities that don't agree with marriage, though. They still have love in their lives, they're just not into the idea of being legally bound to another person til death or a divorce lawyer do them part. It's crazy! Apparently, they're more into the love aspect of a relationship, and not the "big party that puts you and your parents into debt" aspect. Here are 16 of them!
Cameron Diaz
Cameron Diaz believes in making up her own rules, a policy that her face seems to follow.
Diane Kruger and Joshua Jackson
Diane Kruger is firmly Team Pacey, but neither she nor Joshua Jackson has any interest in actually getting married.
Goldie Hawn and Kurt Russell
Goldie Hawn and Kurt Russell have been together since they looked like this, but they never married.
Sarah Silverman
Sarah Silverman called marriage barbaric, and then she talked about farts for a while (probably).
Oprah Winfrey
The media juggernaut doesn't believe in marriage, probably because she doesn't want to risk losing half of a gajillion dollars in a potential divorce.
Kylie Minogue
She doesn't think she'll ever get married, because she's busy writing music that people in the US kind of like, but people in Europe love the most.
Kristin Davis
Star of Sex in the City Kristin Davis doesn't think she'll get married, and not just because no guy will put up with a star of Sex in the City.
Jon Hamm
Don't propose to Jon Hamm, because he'll throw a bottle of whiskey at your face.
Eva Mendes and Ryan Gosling
Eva Mendes doesn't plan on getting married, but let's see if she's able to say no to Ryan Gosling! (Especially now that they have a baby!)
Chelsea Handler
The talk show host doesn't want to get married because doesn't like to do things that happy, well adjusted people do.
Charlize Theron
Even though there are probably plenty of people who'd do it, Charlize Theron doesn't plan on walking down the aisle. (This is probably a good thing considering she's dating ticking timebomb Sean Penn.)
Naomi Watts and Liev Schreiber
Naomi Watts and Liev Schreiber have two kids, a home and cool accents. Who needs paperwork?
Previous
Next
BEGIN