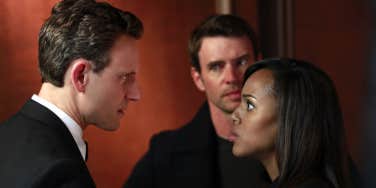 Olivia Pope is back with lots of 'Scandal' and even more red wine.
Thursdays on ABC are back. Between Meredith Grey and Olivia Pope, "Thank God It's Thursday" is the best thing that could've ever happened to us. We go home, gather our ladies, pop open multiple bottles of (red) wine and thank God for Shonda Rhimes, the best damn TV producer/creator of all time.
Scandal is returning this week, which means Jake Ballard in all of his glory and muscles will also be back in our lives. While the season 2 finale left everyone in shock, season 3 tied things up pretty well, while still leaving lots of unanswered questions. Warning: this will be a spoiler for all of season 3! Stop now if you haven't seen it yet.
It's been a little while since the show aired so if you haven't been obsessively re-watching or catching up, you may have forgotten all the crazy drama that went down in season 3. Let's start first with where season 4 picks up: Olivia Pope is off on some tropical island sipping on wine with Jake Ballard. Fitz is a second-term president and we can only assume that she will be needed very soon back in D.C., because Fitz is kind of the worst president ever if you think about it. That's pretty much the start of things, but here are 19 things you should probably remember from season 3.
1. The bomb explosion.
Maya and Adnan set up a bomb at Senator Hightower's funeral hoping to blow up the president. Cyrus knew about the bomb and stopped Fitz from going, but hoping that Sally Langston would die in the explosion.
2. Fitz's dad raped Mellie.
Remember that creepy flashback episode? Well, Olivia tells Fitz and he gets all distraught and acts like a decent husband for like five seconds.
3. Maya stabbed Eli.
Talk about a dysfunctional family: Eli ends up in the hospital after his estranged terrorist wife stabs him. He starts acting nice to Olivia, which you just know is bullshit because Eli never does anything right.
4. But it's okay because she shoves her in the hole.
At the end of the finale, Jake reinstates Eli as the head of B613 and heads off to paradise with Olivia.
5. Before that, Huck and Quinn do the nasty ...
Near or next to Eli's stab wound at Olivia Pope and Associates. Ow ow!
6. ... which means Charlie dumps Quinn.
After bringing her kind of into B613 over the last season, Charlie figures out that Quinn and Huck are hooking up and leaves her. (We have a feeling he will be back though.)
7. And gives her Huck's family's location!
Quinn takes Huck to see his wife and his son. For whatever reason, Huck gets all pissed off and tells her never to speak to him again. He has issues. It's okay, we forgive him.
8. David Rosen called Cyrus "Voldemort."
… which reminds us why we love David Rosen.
9. Fitz's son dies.
Jerry dies of meningitis, so naturally Fitz assumes that Maya is behind it and tells Eli he's going to find Maya and kill her.
10. Spoiler alert: Eli did it.
Because like we said, he's always evil.
11. Therefore sealing Fitz's presidency.
Dead kids will win you an election. Sympathy votes.
12. Jake Ballard killed James.
Worst moment of the season. Cyrus' husband was murdered by Jake in front of David Rosen because they pretty much figured out the whole election rigging situation. We miss him still.
13. Jake gives David everything.
All the confidential files from B613 were handed to David at the end of the season so David can take them down.
14. Huck goes to see his family.
He ultimately decides to meet them, because Charlie totally knows where they are. Super dangerous.
15. Jake and Olivia fly away.
They went to paradise together. Because who wouldn't fly to an island with Jake Ballard?
16. Harrison might be dead.
We aren't really sure. We are pretty sure that Columbus Short is supposed to be in jail IRL or something, but he probably won't be back so you can assume he's dead.
17. Sally Langston lost.
… because she murdered her husband. Seriously, who are these people?
18. Oh yeah, Eli also killed Adnan.
Or as I call her, Nora from <i>How I Met Your Mother</i>. He's a monster. Someone should just kill Olivia's parents already.
19. Finally, Olivia drank a lot of wine.
Previous
Next
BEGIN