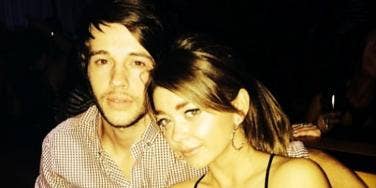 These stars survived and thrived after domestic violence.
The world was shocked when it was revealed that Modern Family starlet Sarah Hyland suffered domestic violence from her longtime boyfriend, Matt Prokop. The couple seemed inseparable, and there was no indication of any acrimony when they split after five years together.
It's just the latest in a series of headlines from A-listers and athletes with domestic violence and abuse accusations. It seems like the NFL, a sport in which jacked dudes tackle one another for a living, is rife with domestic violence and spousal abuse these days. After the Ray Rice video surfaced in which he knocked out his then-fiancee (and now wife) Janay, even NFL commissioner Roger Goodell, who may or may not have tried to hide the video and his knowledge thereof from the public, is facing heat from the incident. And with good reason: Domestic violence and domestic abuse are never, ever, ever okay. And in the court of public opinion, it warrants much more than the original two-day suspension that was originally dealt to Ray Rice when the allegations surfaced.
For perspective on just how effed up the NFL's handling of domestic violence is, know this: Ray Rice was suspended for two games for clocking Janay Rice and knocking her unconscious, while Josh Gordon was suspended for an entire season for smoking pot. Hell, if more players engaged in Gordon's recreational activity, maybe they'd be mellow enough to, you know, not beat the crap out of their families. That said, Janay Rice is under a lot of media scrutiny right now for marrying the Baltimore Ravens star, and it's a bit unfair to criticize her for it. The cycle of abuse is a complex and thorny one, and her detractors are pretty much only showing their own ignorance of how domestic violence and abuse — which includes mental, physical, emotional and psychological damage — really works. And these people are always unaware of just how common domestic abuse can be.
These 13 stars survived and thrived after suffering domestic violence at the hands of some seriously disturbed partners, husbands and boyfriends. Let their stories inspire you, whether it's to leave an abusive situation or to just feel less alone. And if you or someone close to you is a victim of domestic violence, get help here or call 1-800-799-7233.
Sarah Hyland
Modern Family star Sarah Hyland got a restraining order against her ex-boyfriend, Matthew Prokop, with whom she split in August. In court documents, the actress claims Prokop slammed her against a car and called her the c-word, then choked her, telling authorities, "His grip was so tight that I could not breathe or speak. I was scared and in fear for my life." Hyland had her Modern Family co-star Julie Bowen on hand when she broke things off with Prokop last month, at which point Prokop snapped in a big way, throwing a lighter at Hyland and threatening to burn down her house and even to harm her dog, at which point Bowen stepped in to protect her. Prokop entered a rehab facility in August after the incident, and the center's director told Hyland and the judge that due to his behavior and attitude towards her, even after treatment, that she needed a protective order for her own safety.
Tina Turner
Tina Turner famously suffered at the hands of her controlling former husband Ike Turner, even inspiring the somewhat grotesque and insensitive "Drunk in Love" lyric "Eat the cake, Anna Mae / I said 'Eat the cake, Anna Mae." Ike Turner's abuse led Tina Turner to attempt suicide in 1968, swallowing 50 Valiums, but she recovered. In 1976, Tina Turner escaped from Ike Turner, hiding out in motels and at friends' homes before filing for divorce and going on to an incredible, record-shattering career comeback.
Tamar Braxton
Reality star Tamar Braxton opened up about an abusive relationship in her past before meeting husband Vince Hebert. "I almost had to tell my story to each individual and then I decided that's not what I'm going to do," Braxton told Ebony. "I can't make anybody believe, I can't change anybody's mind about anything. [Abuse] it happened. I'm not all the way comfortable with sharing a lot of what happened to me (yet), but what I said was true. When I'm ready to talk about my abusive past I will, I'm sorry that I'm not. But if it wasn't for [God], I wouldn't be here."
Rihanna
Chris Brown infamously battered Rihanna the night before the 2009 Grammys. The couple reunited in late 2012 before finally splitting for (what seems to be) for good in 2013. Rihanna had confessed to Oprah Winfrey that she believed Brown's abuse was a sign that he himself needed help, possibly even more than she did.
Pamela Anderson
Tommy Lee reportedly abused Pamela Anderson numerous times, even hurling her across a table and attacking her while she was holding one of their sons. Lee was sentenced to six months in jail for battering the blond bombshell. The couple were on-again off-again for years before finally ending things for good (we hope) in 1998.
Meredith Vieira
On her new talk show, Meredith Vieira described why she stayed with an ex who physically abused her. "I'm a smart woman," that while this was taking place, she heard "a lot of people say, 'Well, who would stay in that situation?' Somebody who doesn't have the wherewithal to get out, the means to get out. [But] I had that. I had a job at the time, and I kept in this relationship."
Since then, she says, "I've done a lot of thinking about why, and I think part of it was fear. I was scared of him. I was scared if I tried to leave something worse could happen to me," she confessed.
She continued, "Part of it was guilt, because every time we would have a fight he would then start crying and say, 'I promise I won't do it again,' and I would feel like maybe I contributed somehow to this – and they are saying this about Ray Rice's wife, that it takes two to tango ... I continued to stay in that relationship until I was offered a job in another state, and that's where I felt I had the ability to get away."
Madonna
Madonna suffered domestic violence at the hands of another A-lister: Sean Penn. Penn beat Madonna with a bat in 1987, which she didn't report because he was already in legal hot water for attacking a film extra. Madge would regret that a year later, when Penn reportedly tied the Queen of Pop's hands with an electrical cord and gagged her, then beat her for nine hours and only agreed to stop when she performed a sex act on him. Once she was freed, she fled to the local police station, where cops barely recognized her.
Kelly Rowland
Kelly Rowland came clean about escaping domestic abuse in her song "Dirty Laundry." In the lyrics she even describes how her abusive ex tried to keep her away from Beyonce.
Halle Berry
Halle Berry grew up witnessing her father abuse her mother. Now the Oscar winner volunteers to help domestic violence survivors and their children. She told CNN, "I think I've spent my adult life dealing with the sense of low self-esteem that sort of implanted in me. Somehow I felt not worthy. Before I'm 'Halle Berry,' I'm little Halle ... a little girl growing in this environment that damaged me ... I've spent my adult life trying to really heal from that."
Evelyn Lozada
Evelyn Lozada was only married to Chad Johnson for one month when she called the police and had him arrested for headbutting her in August 2012. They divorced one month later.
Robin Givens
Robin Givens has been open about her abusive marriage to Mike Tyson.
Mariah Carey
Mariah Carey's critically acclaimed Butterfly was about her breakup from her controlling first husband, Tommy Mottola, who reportedly even spied on her during her rebound relationship with Derek Jeter and attempted to sabotage her records after they split.
Whitney Houston
Before her untimely and heartbreaking death in 2012, Whitney Houston confessed that her marriage to Bobby Brown was mutually violent and abusive.
Previous
Next
BEGIN