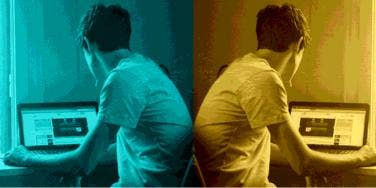 Don't make these common mistakes when you're trying to find love online.
Online dating has a bad rap, and deservedly so. It's weird to try to get to know someone online and ascertain whether or not there could be a romantic connection. As someone who's an online dating pro, I see a lot of guys make these ten communication mistakes over and over again, and the thing is: I don't know if they realize they're making them. Fellas, don't be the guy who does this stuff. You're not doing yourself or us ladies any favors.
"How are you?" is not a conversation starter.
Try picking something you found interesting from my profile and asking me specifically about that. Unless this is free therapy. In that case, how much time do you have?
Photo: OKCupid screenshot
First dates that last longer than a few hours are awkward.
Maybe we could start by like having *a* drink or *a* coffee or going on *a* walk, rather than get together for a picnic then a sunset cruise followed by picking our wedding venue? Something that lasts 1-2 hours, tops.
Photo: Anthony Quintano
Please ask about me.
Something even the cool guys who are sort of good at online dating don't seem to understand: you have to also ask me about me. It's not just about you and what you're interested in and what you do and what you like. I am a person with an exciting life, too, thanks. If you don't ask me about myself when we are messaging, I will not meet up with you for a lifetime of the "YOU" show. Sorry I'm not sorry.
Photo: courtesy Carolyn Castiglia
If you look sad in all your pics, I'm going to believe you're sad
Chin up, buddy. It can't be that bad. Look at Ronald McDonald! He's lovin' it.
Photo: Davide Vizzini
Don't be gross.
This is a legit first message I received from someone. NO THANK YOU. Online dating sites are not meet-and-fuck sites. There are plenty of those (cough, cough Tinder) and I'm not on any. (Okay, I'm on Tinder but not like that!)
Photo: courtesy Carolyn Castiglia
If there is a woman in your picture, you don't look available.
Guys, please stop using pictures of you and just one other woman. Oh, she's your friend? Okay, sure, yeah, whatever. It's weird.
Photo: epSos.de
Women don't owe you a reply.
Just because you message a woman, she does not owe you a reply. Be cool. (And this goes both ways, ladies!)
Photo: William Hook
Don't message me again...and again…and again.
Sometimes guys just don't take the hint. If we've messaged and nothing came of it, then a few weeks or months later you write me again and we exchange some notes but nothing comes of it? Maybe don't make that third attempt. We're all busy. But nobody wants to be a back-burner date idea or your creepy obsession. Be like Adele Dazeem and Let It Go.
Photo: William Hook
Spelling counts.
It just does. Try spell check. It will check your grammar, too.
Photo: OKCupid screenshot
Seeing a movie is a bad first date idea.
Why don't we go somewhere where we can, I dunno, TALK and get to know one another? Rather than sit quietly in the dark for 2 hours listening to each other breathe?
Photo: Sam Howzit
Previous
Next
BEGIN