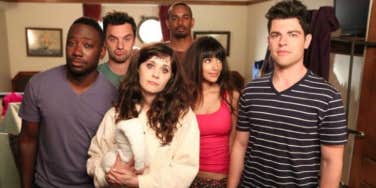 Schmidt is back in our lives tonight, which means it's time to celebrate.
We kick off the return of all our favorite shows with New Girl. There is literally no better way to start the fall season than with Jess, Nick, Schmidt, Winston, CeCe and Coach (Actually, The Mindy Project airing right after New Girl really solidifies Tuesdays as the best TV day). Ah, it feels good to include Coach in that cast lineup. So where did we leave off? (Warning: Spoilers ahead!) Nick and Jess are broken up, which makes everything awkward for everyone. Seriously, they need to get back together. It's more uncomfortable than when Ross and Rachel took a break.
What do we know about season 4 so far? Not much except tonight's episode will take place at a wedding were the gang is all competing to see who can get laid. Unfortunately for Jess, Jessica Biel will be playing her competition for the night and the outcome doesn't look great for Jess. Oh! Maybe her and Nick will get drunk and hook up. We can hope can't we?
Honestly, we are really looking forward to some grade-A Winston and Schmidt scenes this season. In honor of the premiere of season 4, we have put together a gallery of 16 things you may not know about the cast of New Girl.
1. Amanda Bynes was almost Jess.
It's true, Zooey Deschanel almost lost the role to Amanda Bynes, which would have been devastating.
2. Jerrod Carmichael was almost Winston.
Not sure what's worse, Amanda Bynes instead of Zooey or someone else playing Winston. It's a close call.
3. Zooey is named after a Salinger character.
Zooey Deschanel is actually named after a male J.D. Salinger character from the book Franny and Zooey.
4. Schmidt is married!
In real life, Max Greenfield is nothing like his TV counterpart. He's been married since 2008 to Tess Sanchez. She is a FOX casting executive, so maybe that's how he got his famous role.
5. …and Schmidt's a dad!
Yes, it's true. Max and Tess have a daughter too. Lilly is 4 years old and Max is obsessed with her. "She's the best, man. She keeps a lot of it grounded," he told ABC News. "You come home, you're like 'Whatever, let's go hang out!'"
6. One of Zooey's first roles was Almost Famous.
You may have forgotten, but Zooey played a Patrick Fugit's sister in the classic film Almost Famous alongside Kate Hudson. They actually went to high school together.
7. CeCe is a genius.
At the University of British Columbia, Hannah Simone studied International Relations and Political Science. Before acting she was working with the UN in London, where she was born.
8. Nick Miller was originally supposed to be like Winston.
9. Liz Meriwether wrote No Strings Attached.
Ah, no wonder we love the Ashton Kutcher—Natalie Portman romcom so much. The creator of New Girl is also the writer of the movie. Kudos, girl. It would also explain the Jake Johnson crossover.
10. Max Greenfield is scared of birds.
11. Winston and Nick are both from Chicago.
Jake Johnson and Lamorne Morris both hail from Chicago and are major Windy City sports fans.
12. FOX asked Jake Johnson to lose weight.
"What's funny is that the network actually asked me to lose 15 pounds, and I did. I basically got told I was too fat for FOX," Johnson told The Advocate. Classic Hollywood.
13. Max Greenfield was penpals with Gwyneth Paltrow!
Back in 2011 he told US Weekly that he emailed with Gwyneth Paltrow all the time because he loves her site GOOP.
14. Zooey isn't a fan of the word "quirky."
15. Coach is part of a famous Hollywood family.
Damon Wayans Jr. is one of the famous Wayans. You might be familiar with his dad Damon Wayans Sr. (In Living Color) and his brothers Marlon (Scary Movie) and Shawn (White Chicks).
16. Zooey's in a band!
She & Him are a musical duo with Zooey and M. Ward. They have been making music together since 2008 and have a new album coming out this fall called Classics.
Previous
Next
BEGIN