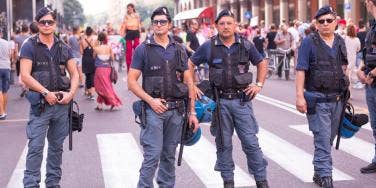 Dress codes are dumb! Everyone is naked under their clothes. Don't believe me?
Every day, in high schools across America, female students are shamed for violating dress codes that dictate acceptable skirt length and favor certain necklines over others. Typically students are asked to change, but in some cases violators are sent home and/or suspended. Last week, 15-year-old Miranda Larkin was instead forced to wear a bright yellow t-shirt and red sweatpants emblazoned with the phrase "dress code violation," because a teacher at Oakleaf High School in Orange Park, FL, decided Larkin's skirt was too short. Larkin was new to the school, and this public humiliation was too much for her to bear. Her mother says Larkin's privacy was violated and is filing a complaint under the Family Educational Rights and Privacy Act.
Girls are disproportionally punished for dress code violations as a means of reigning in budding sexuality in learning environments. But that puts the onus on young women to attempt to control the desires of horny teenage boys, which is an unfair, outdated burden. I hate to break this to everyone, but it doesn't really matter what women wear. Everyone is naked under their clothes. It is just as easy to sexualize a man in a three-piece suit as it is a girl in a skirt that stops mid-thigh. Take a look at what I mean:
Oh, Officer!
This guy is packin' heat.
Be Still My Beating Heart
Hello, nurse! I mean, doctor.
Baby, It's Cold Outside
You know what they say ... the bigger the snowshoes ...
Undercover Lover
Look at this burka'd biker with the beautiful bootie.
Moon Me
Can't you just imagine this moon man giving the moon?
En Fuego
This boy is on fiiiiiiiiirrrreeeeeeee!
Welcome to the Show
This sexy soldier boy looks so yummy in his winter warrior wear.
Previous
Next
BEGIN