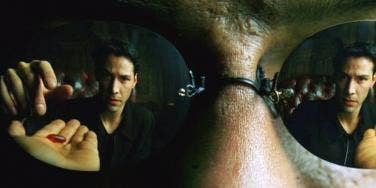 This is what I learned about life, love and my girlfriend when she was high as a kite.
My girlfriend doesn't do drugs. Ever. She's never smoked a cigarette, let alone anything else (just the smell of pot makes her nauseous), and she didn't even start drinking until she was 23 (and even then, she still only drinks just enough whiskey or gin to, as she says, "become a nicer person," then stops before it gets messy). Normally, that is. Recently, she had to get some oral surgery, and her dentist prescribed her codeine to help with the residual pain. If you've never done codeine before, it is one of the most powerful prescription drugs out of all the drugs out there — it's classified as both a narcotic and an opiate.
Since she doesn't do stuff like that ever, she wasn't ready for the effects. AT ALL. Like I said, codeine is pretty powerful stuff. Once it took effect, it became one of the most entertaining events of my life.
It was cute. It was also very informative. She didn't know what to expect, so she hadn't braced herself for the high, thinking it would just make her mouth stop hurting and put her to sleep. She wasn't even aware that she was stoned. It was one of the most honest, and weird, evenings, we've ever had, though she hardly remembers any of it. Here are 11 things I learned about life, love and my lady while she was high as a kite.
She doesn't care about her shoes...
I came into our apartment and stole her shoes, making myself very obvious to her, but she was so dazed that she saw me crawling and just thought I was a little person. Basically, I could steal all of her shoes if I wanted to. That's good information for me to have.
Words have multiple meanings.
The word "space" can mean different things. She was really caught up in this ...
She has opinions on outer space.
Like the distance between two objects. But mostly, yes, outer space. And yes, she had lots of opinions on outer space. Including that black holes might be full of sharks, apparently. She talked about this for 20 minutes. (To be fair, we really just don't know. She might be right.)
She talks way more.
At one point, I went to the bathroom. When I came back, she was still talking, and hadn't stopped the entire time I left the room.
She developed a British accent.
I don't know where this came from, but when she gets high, she talks with a British accent. She is not British.
Her mom might be stoned all the time...
My girlfriend's mom is a pretty silly character. When my girlfriend was stoned, she was acting very similar to her mother, which is a little suspicious.
Maybe her whole family is...
Also, based on my girlfriend's stoned behavior, her three-year-old nephew may also be stoned all of the time. Very similar behavior.
It doesn't effect her desire to own a monkey.
She still wants a monkey. Being stoned didn't effect this desire.
She appreciates the Police.
I mentioned passing cops on my way home. My girlfriend replied, "I like their songs. People play 'Every Breath You Take' at their weddings but it's about stalking an ex, and I want to play that at my wedding, because if my husband leaves me I will be watching him, and I will have a knife."
That was the gist of it, and then she talked for 20 minutes about how repetitive their choruses get. She also said she likes the show "Cops."
She thinks she can fight crime ...
... but she has no desire to. She can't be bothered. She just wants that information out there.
Previous
Next
BEGIN