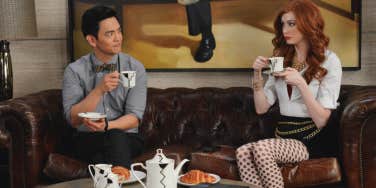 Pilot season is here, which means more shows to obsess over.
Autumn is here, which means it's time for Pumpkin Spice lattes, football, scarves, boots and the best thing in the world: cuddling up on the couch with a new TV pilot. We are constantly trying to find the next big show. Whether it is an action series like Game of Thrones, a drama like Breaking Bad or a comedy like How I Met Your Mother, we always need something to keep us busy on an afternoon where you literally want nothing to do with being outdoors. Pretty soon for us east coasters, we will be hibernating instead of going out to bars. It just happens, and we totally get it. People who are constantly outdoors are a little annoying sometimes. Sit down and watch some TV. That's what we do in America.
The hardest part about pilot season is the fact that so many new shows are released and you have no idea where to start looking for a new one. Sometimes you watch an episode one week only to find out that it's quickly been pulled from the line-up. It's very stressful, so we've done some research to put you ahead of the game. Here are 12 shows you should set up on your DVR to record.
'How To Get Away With Murder'
As part of "Thank God It's Thursday," How To Get Away With Murder is Shonda Rimes' newest show (you know the creator of Scandal and Grey's Anatomy). Viola Davis is a badass lady who defends hardcore criminals. On the side she's a criminal defense teacher at a Philadelphia university. Murders are committed and her students will be heavily involved in the case (as most of Shonda's characters are). It's basically going to be just as good as Scandal and I'm sure at some point Scott Foley will guest star, so you have that to look forward to.


Premieres: Thursday, September 25 @ 10 PM on ABC
'Selfie'
A social media-obsessed girl vomits on an airplane in front of all her coworkers and realizes that even though she's popular online, she has no friends IRL. She enlists her coworker to "rebrand" her and teach her how to socialize. The first episode is available online and it's surprisingly good. It's fun, especially if you're iPhone obsessed.


Premieres: Tuesday, September 30 @ 8 PM on ABC
'Manhattan Love Story'
A guy and a girl begin a relationship, but instead of hearing normal day-to-day conversations, you hear voiceovers of what they are actually thinking about. If you're single, this probably hits close to home. It's your basic rom com show, so it could be fun and lots of Manhattan views.


Premieres: Tuesday, September 30 @ 8:30 PM on ABC
'A To Z'
The mom from How I Met Your Mother and one of the hot guys from Mad Men meet and date. He's obsessed with love and destiny, like Ted Mosby and she's not interested in fate. In an indie film kind of way, they take you through their relationship from start to finish. Has potential to catch on, but more of a guilty pleasure for sure.


Premieres: Thursday, October 2 @ 9:30 on NBC
'The Affair'
The Affair is what Mistresses could be if it was on Showtime. The new show takes viewers through the emotional and psychological repercussions of an affair between a waitress and a teacher in the Hamptons. Plus, Pacey from Dawson's Creek is in it, therefore you know it's going to be good.


Premieres: Sunday, October 19 @ 10 PM on Showtime
'Gotham'
To add to your superhero craze, Gotham is the origin story of Batman's favorite police commissioner Jim Gordon. Not only will you get to see Gordon grow up and enter the police force, but apparently we get to see some of Gotham's villains get their start.


Premieres: Monday, September 22 @ 8 PM on Fox
'Happyland'
If Happyland is anything like Awkward. we are good to go. Happyland explores teens working at an amusement park. It's scripted, so it's not like Teen Mom, but it could be a fun show to get into. It's described as a soapy teen comedy, which is pretty much everyone's favorite thing to indulge in.


Premieres: Tuesday, September 30 @ 11 PM on MTV
'Intruders'
Have you noticed lately that BBC has been killin' it with their shows recently? Orphan Black, Sherlock, Downton Abbey. We aren't casting any BBC show aside right now. Intruders is about a cop whose wife goes missing and he must solve the murder. There's people who stay immortal but invading other's bodies, so you know it's good. Plus it's already started, so you have something to do this weekend.


Premiered: Saturday, August 23 @ 10 PM on BBC
'Jane The Virgin'
Let this be your guiltiest please because it's going to be awful. Jane The Virgin is exactly what it sounds like, except one problem, 23-year-old Jane is pregnant. Apparently, some mix up at the doctor happened when she was artificially inseminated. Of course, the sperm belongs to her boss, the owner of the hotel she works at. Obviously. This will come and go, but should be thoroughly enjoyed before it quickly ends.


Premieres: Monday, October 13 @ 9 PM on CW
'Marry Me'
We are a little iffy on this one as being something that will catch on, but we are going to give it a shot because Casey Wilson and Ken Marino are both awesome. After a week-long vacation, Annie trips out on Jake for not proposing even though he was planning on it. In a series of proposals, things keep going awry. It's a pretty standard rom com.


Premieres: Tuesday, October 14 @ 9 PM on NBC
'State of Affairs'
Katherine Heigl is making her first TV appearance since her less than amicable leave from Grey's Anatomy. Not sure who really hired her considering everything we know about her, but the show is about the White House's top CIA analyst (Heigl) and her day to day life making world wide decisions. It's kind of like if Scandal and Homeland were one show, but they couldn't get Claire Danes or Kerry Washington, so they went with Katherine Heigl. Regardless, it's a must-watch just for our curiosity.


Premieres: Monday, November 17 @ 10 PM on NBC
'Scorpion'
Basically if Big Bang Theory was a drama, it would be this show. Based off real-world genius Walter O'Brien, Scorpion is about a group of really smart nerds who solve complex world problems. It's like an awkward nerdy superhero group, plus Katherine McPhee.


Premieres: Monday, September 22 @ 9 PM on CBS
Previous
Next
BEGIN