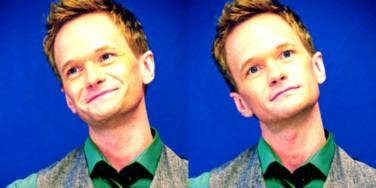 Rejoice! NPH is hosting the 2015 Academy Awards!
Our dreams have come true! Neil Patrick Harris is hosting the 87th Academy Awards! While this will be his first time as the Oscars' emcee, the How I Met Your Mother star has hosted two Emmys and four Tonys—so he definitely has a ton of experience. Earlier today, he tweeted a video announcing the new gig, which is a big checkmark off his bucket list. Back in 2010, NPH appeared in the award show's musical opener, so we have high hopes for an epic song-and-dance routine on Feb. 22, 2015.
Just last month NPH went off the market forever, which was very bittersweet because we're absolutely obsessed with him and his husband, David Burtka. On the other hand, we were all kind of hoping that maybe one day he would realize he's straight in hopes we'd have a shot with him (kind of the way we hope Matt Bomer will eventually come out as straight). The couple married in a private amazing Italian ceremony and Kelly Ripa announced this morning that "it was a beautiful, beautiful family affair in Perugia, Italy. They rented a castle — or, I think they rented it! I hope we didn't break into a castle. It was a really beautiful. Sir Elton John performed. There were fireworks. The food was amazing."
From the time he landed his infamous Doogie Howser role at 16 years old, we've been obsessing over the talented star. So now we'll be counting down the days until the 2015 Academy Awards. Basically, we are trying to say that NPH is legen — wait for it — dary!
Photo: weheartit.com
1. Two words: 'Doogie Howser'
Seriously though, best TV show ever.
2. He's obsessed with Magic
In case you didn't know, like Barney Stinson, NPH loves magic tricks. He is the president of the Magic Castle club in Los Angeles.
3. NPH plays the best straight guy
He's quite good at playing a ladies man.
4. The ultimate triple threat!
He sings, he dances, he acts, there is nothing he can't do, because he's perfect.
5. He's perfect.
I think we might have covered that, but we had to reiterate it.
6. His twins are adorable!
Gideon and Harper are actually the cutest little kids in the whole world.
7. No one does cameos like NPH.
The Harold and Kumar cameo appearances were that of legend. No one pulls off strippers and cocaine like Neil Patrick Harris.
8. He's the one and only Hedwig!
We love Andrew Randalls and Michael C. Hall, but NPH as Hedwig should be exclusive to him.
9. NPH is all about the #foodporn.
Neil loves his foodie pics and so do we. Mainly because we can't afford food that looks that good.
10. Without NPH there would be no Barney Stinson!
Which would be a tragedy.
11. We wouldn't have the Hot/Crazy Scale
How would we know how to spot crazy women?
12. Suiting up wouldn't even be cool.
"Suit up" wouldn't even be a thing without NPH.
13. Not to mention, he brought laser tag back.
Seriously though, laser tag was cool again, because NPH played it.
14. The Barney Stinson blog would cease to exist!
Along with the return of the bro code and so many other important life lessons.
15. Because of this picture.
16. He has messages written across the sky for his hubby.
He's über romantic and adorable.
17. He really rocks a handlebar 'stache.
Have you seen A Million Ways to Die in The West? Because Neil is the only good part and looks awesome with that mustache.
18. Because he didn't need an understudy.
NPH was too awesome to need an understudy while he was on Broadway.
19. His family Halloween pics dominate everyone else's.
We can't get enough of the Harris-Burtka family!
20. He hangs out with SJP.
If we could hang out with SJP and NPH at the same time, we could die happy.
21. That time he licked his Emmy.
Because NPH can do what he wants when he wants.
22. Because Barney Stinson married Lunch Lady Scooter!
23. He has the best drunk margarita pics!
"Margarita #4: Feeling great. Can't find my book…"
24. Margarita #7
"Margarita #7: Yummy yum yum! Man, what's in these things?!?"
25. Margarita #12
"Margarita #12: I's the life of the party!! Everybodyone is LOVING me!!"
26. Margarita #14
"Margarita #17: Maaaybeee shud take break I shud maybeee. #ifoundahat"
27. Overall, he's better than anyone you know.
He's just the coolest dude, and we're pretty much obsessed with him. Can't stop. Won't stop.
Previous
Next
BEGIN