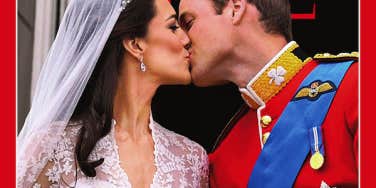 Only a royal baby would understand these beyond-first world problems.
So, there's going to be another royal baby! We can all calm down, though, because this one isn't important. The future king was already born, so this is just a regular baby. So we can all relax, even though none of us will because OMGZ BRITISH RICH PEOPLE!
There will still absolutely be a bunch of people who get excited about this, because they love rich babies. I guess that's a thing to love. I mean, nothing against the baby, but it doesn't necessarily deserve the life it's about to be born into. It hasn't earned it at all. Get a job, baby!
This kid is just going to be a rich person with no responsibility for its entire life. Boy or girl, it doesn't matter, it's never going to know what a normal life is. Seriously, think about it. It's a prince(ss). It's never going to have a real problem in its life. Here are some of the problems the prince or princess actually would encounter.
Having To Root For Captain Britain
Here in America, we have Captain America, and he's the best. In Britain, they have Captain Britain. And he's not Captain America.
Attractive Cousins
They royal family can be pretty close sometimes. They like to keep things "in the family." Basically, this kid's cousins are going to be all over it, and that's super uncomfortable.
Having To Watch "Dr. Who"
Those people over there LOVE Dr. Who. This kid is going to HAVE to watch it, and it's going to have to start from the beginning! Oh no!
Having Awful Teeth
British people have notoriously bad teeth, and even the royalty can't escape that, especially since they're usually all related somehow. He or she will be royalty, but he'll have peasants' teeth.
Getting Turned Into A Frog
What if some confused witch turns this kid into a frog? Imagine if that happened? That'd be nuts!
Living In A Castle
The baby's going to grow up in a castle. Hopefully, the bathrooms aren't too far from its room. Seriously, imagine having to walk to the other side of that thing? Gross.
Knights
The kid is going to be royalty, so that means it's going to have to deal with knights constantly trying to impress it. Ugh, enough with the knights already, okay?
Dealing With Actual Princesses And Princes
You know how when some girl is being super bratty, everyone calls her princess? Well, this kid's going to have to hang around actual princesses. Imagine how horrible they'll be!
The Murderous Family Member
If Disney movies have taught us anything, it's that every royal family has one murderous member in it. The new baby should be fine though, he or she will be second born, so there'd be nothing to gain from this.
Previous
Next
BEGIN