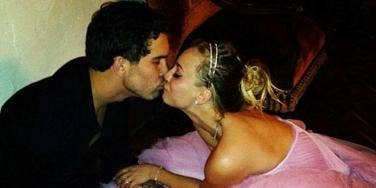 These stars raced to the altar ... and then to divorce court.
The Big Bang Theory star Kaley Cuoco (the second-highest paid TV actress right now) and tennis flop Ryan Sweeting got engaged after only dating for three months. (This was after he'd moved in with her after they only dated for—wait for it—two days.) They married three months later, making their courtship a total of six months long, or short, as it were.
The starlet even told David Letterman she knows it sounds pretty unwise. "It all did move quite fast on paper," she confessed, "but we really did know...And I know you're all thinking, 'She's nuts!' I swear I'm not nuts. We just fell in love."
Right.
And now there's talk of the Instagram-happy, couple-tattooed pair splitting up. That sucks, but is it really so shocking?
It really should not be too surprising when you consider that other Hollywood couples who tied the knot after whirlwind romances went to divorce court almost as quickly. Hey, at least they won't be alone, even if they end up single!
Nikki Reed and Paul McDonald
Twilight actress Nikki Reed and American Idol contestant Paul McDonald got married in 2011 after dating for six months, even releasing an album together. However, when they announced their divorce in March 2014, not even that could make them relevant.
Tara Reid and Zack Kehayov
After dating for a few months, Tara Reid announced she was engaged on Twitter in August 2011, then hours later announced she and Zack Kehayov had tied the knot. She later denied the legality of the marriage, then starred in two Sharknado films, because she makes really great life decisions.
Shannen Doherty and Ashley Hamilton
Repeat offender Shannen Doherty dated Ashley Hamilton for two weeks before they got hitched in a backyard wedding in 1993, then split five months later. Patience is a virtue that this lady just does not have.
Shannen Doherty and Rick Salomon
90210-turned-Charmed-turned Education Connection commercial actress Shannen Doherty tied the knot with perpetual starf*cker Rick Salomon after dating him for two days. Two days. That's probably less time than it took for Salomon to edit One Night In Paris. The pair annulled their marriage nine months later.
Kid Rock and Pamela Anderson
Bawitdawhat-the-f*ck? Pamela Anderson and Kid Rock got engaged, broke up,then got back together for only one month before tying the knot on a yacht. They divorced a few months later, because, well, that's sort of Pam's thing.
Naya Rivera and Ryan Dorsey
Naya Rivera and Ryan Dorsey got married mere months after Rivera called off her engagement to rapper Big Sean. It's only the latest in ways the Glee star is desperately and thirstily trying to transform herself into a Canal Street Kim Kardashian. Which is sad, because Kim Kardashian seems to want to be a Canal Street Jennifer Lopez.
Mariah Carey and Nick Cannon
Mariah Carey and Nick Cannon met in March 2008 on the set of her "Bye Bye" video, then wed in May. Fast forward six years, one set of twins and a ton of adorable vow renewals, and the pair are on the fast track to divorce. "Bye Bye" indeed.
Kim Kardashian and Kris Humphries
Kim Kardashian and Kris Humphries dated for five months before he proposed. She infamously filed for divorce a mere 72 days after their massive televised wedding, because, well, she and Mama Kris Jenner are the worst, and he's, well, Lurch.
Khloe Kardashian and Lamar Odom
The least insufferable of her sisters, Khloe Kardashian, and Lamar Odom were one couple we had to root for. They married a month after meeting and lasted four years before his alleged drug use and cheating did the marriage in.
Cher and Greg Allman
Cher married Greg Allman just three days after her divorce from Sonny Bono was finalized. They split nine days later; he's married about five more times since.
Eddie Murphy and Tracy Edmonds
Eddie Murphy and Tracy Edmonds got engaged while Murphy's ex, former Spice Girl Melanie Brown, was pregnant with his child (that he later denied). They jetted off to Bora Bora and got married, but admitted upon their return that the marriage wasn't legally binding and split.
Kenny Chesney and Renee Zellweger
Renee Zellweger married Kenny Chesney after a four-month courtship, then filed for an annulment 128 days later. Maybe she finally saw him without the cowboy hat.
Britney Spears and Jason Alexander
Britney Spears knew Jason Alexander since high school, but they lost touch when she became a superstar and dated Justin Timberlake. After she and JT split, Spears and Alexander met up in Las Vegas, married in a chapel that weekend, and annulled it 55 hours later. Because what happens in Vegas stays in Vegas, especially if you're wasted.
Danny Bonaduce and Gretchen Hillmer
Former Partridge Family star Danny Bonaduce met Gretchen Hillmer on a blind date in 1990 and wanted to sleep with her. She said not unless he put a ring on it, so he did—that very day. They lasted 17 years and two kids until they finally split in 2007.
Katy Perry and Russell Brand
Former sex addict, drug addict and alcoholic Russell Brand thought marrying Katy Perry, who sings songs about opposites like "hot and cold" and about binge drinking, would be a good idea. The two got engaged two months in and married about a year after they met. They split about 14 months later, which Perry capitalized on by releasing "Part of Me" and "Wide Awake" in succession.
Previous
Next
BEGIN