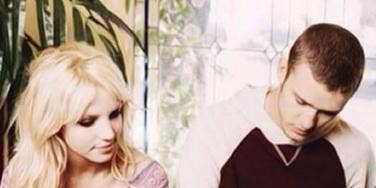 Justney is a thing of the past. These are 10 reasons it shouldn't be.
The '90s are a thing again and we think it's time to exhume one of the biggest, best, Canadian tux-wearing romances of the era. That's right. We're talking Justin Timberlake and his ex, Britney Spears. The pop stars dated from 1999 through 2002. It's high time for a Justney resurgence, y'all. Justney V. 2014 could and should happen.
Remember, it was rumored that the 'NSYNC star took the pop princess' virginity, which has since been refuted. They split. He had a lot of film and music success and married actress Jessica Biel. Brit Squared got married a few times, had some really freakin' cute kids and has had lots of BFs, yet she never seems to land "The One."
Rumor has it that The 'Lake has cheated on his missus once again. And Brit just split with her cheating ex, David Lucado, a regular guy who reportedly got caught — on video, for God's sake!!! — with his hands all over another woman. Brit's conservator and dad Jamie Spears allegedly bought the tape, showed it to Brit Brit and then buried it. Lucado was assed out and quickly dumped.
Those factors make now seem like the right and ripe time for a Justney reunion. We're not advocating cheating on anyone's part. We do hope, pray and wish for Justney to have another go-round, though. We're allowed. Besides, how could you not root for it?
Here are 10 reasons that the former teen pop couple should reunite. #Justney2014.
Jessica Biel can't compare.
1. We love and respect Biel. She is a total babe. But first love never really dies, does it? And Brit and JT are each other's first wuv.
Kevin Federline
9. He's not Kevin Federline. OK, sorry K. Fed. You have been cleaning up your image. And you take care of your (many) kids, Chris Rock-style. But this one was too easy so we went for it.
Katy Perry and Riff Raff
8. Because only they could get away with a Canadian tux. Sorry, Katy and Riff Raff. Yours was a valiant effort, but the Justney VMAs Canadian tux remains unmatchable.
The duets!
7. They could make beautiful music together. JT is on a musical high due to The 20/20 Experience and Brit's owning Sin City. That's a recipe for "Team Up Time."
The sexy pictures!
6. She is launching a lingerie line, dubbed "The Intimate Collection." Come on, people. The onetime sex kitten and lusty Lolita known as Britney Spears can't launch sexy undies and not have someone to wear (or model) them for. She can't stay single for long and JT foots the bill of the perf man for Brit.
It's Britney, bitch!
5. She's Britney F—king Spears, mmmkay?
The nostalgia!
4. They remind us of our long-gone youth. We yearn to return to a time and a place when life was as easy as gawking at Justney photos on red carpets and at major music awards shows and events.
The charm!
3. They're both Southern. And JT is a gentleman.
The dapper and debonair JT!
2. Brit has had too many bad romances. She was at her best with JT. Look at that dapper man.
Sexy Back
10. They could bring sexy back!
Previous
Next
BEGIN