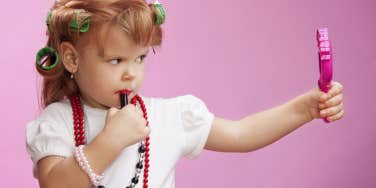 Your signature style isn't complete without a final beauty statement to seal the deal.
You probably wear your makeup a certain way based on what you've learned about your face, skin and style over the years. You might know that a certain shade of blush brings out your eye color, or that a specific shade of lipstick gets you just the right amount of attention. Here at YourTango, we encourage you to shake up those notions with what we call beauty statements, little tweaks that encompass three things: simple, chic and (most importantly) wearable. By making a bold beauty statement, you can take what you've learned about your makeup habits to the next level, making your morning routine not only easy to pull off but also show off your best assets.
Your beauty regimen is just as important as your style. So how do you choose the best beauty statement that fits you? First, find what makes your style unique. It could be anything, from your eyeliner color to the way you color your lips. Second, take stock of your strengths. Beauty statements are all about playing to where you're most confident, celebrating what you love most about yourself. Both have to be carefully cultivated to bring out how truly exceptional you are. Finally, experiment with everything...and we mean EVERYTHING! This way you'll find surprises and strengths where you never knew they existed.
To inspire you even more, we've compiled ten statement-making ideas that are super simple for you to start. We've included the tools and inspiration you need, all you have to do is pick your poison and practice, practice, practice!
Ready to celebrate?
1. Overdrawn lips
Adventurous but also fancy yourself a classic kind of gal? The overdrawn lip look is getting more popular by the second (Thanks Kylie Jenner) and it's perfect for pumping up your daily routine… literally. A muted full lip in a dusty rose tone gives you a sultry look that's understated and eye-catching all at once. Use a concealer around the edges of your mouth and blend it into your lips before going over it in a lip pencil closest to your natural lip color.
Image source: xoVain, Covergirl, L'Oreal Paris USA
2. Romance novel eyeliner
A smokey eye is as classic as it is hard to master without looking like you slept in your eyeliner. But once you learn a few tricks you'll end up looking effortless, a great compliment to any daily look! The smokey, romance-novel-esque eye is perfect for those with a quixotic streak but it's still wearable. Pick an eyeliner color of your choosing (a smokey eye doesn't always have to be in black!) and line your top and bottom lashes before using a Q-tip to gently smoke it out.
Image source: Pinterest, Chemist Warehouse
3. Triangle glow & highlight
Sometimes making a statement is as subtle as showing off your natural bone structure. Highlighting brings out the cheekbones you didn't even know you had and gives you a dewy glow. If you're looking to add that extra "oomf" to your look without adding too much color, find your cheekbones and start accentuating. Instead of dotting concealer or highlighter under your eyes, sweep it from the inner corners of your eye in a triangle to emphasize the shape of your nose and the apples of your cheeks.
4. Strong brow
Using your brows as your statement-making stand out says just one thing: you are not to be messed with. A strong brow can make you look fearless and confident, bringing out your inner runway supermodel in seconds. While full brows are not for the faint of heart, a little courage can go a long way and you won't be disappointed! To get a natural looking brow without looking like you drew them on with sharpie, brush the hairs down first and then draw the top line before filling them in, brushing them into place afterward.
Image source: Erin Ashley Makeup, Sleek Hair
5. Bold cheek color
Okay, so adding color to your makeup routine has usually involved a bright smear of eyeshadow or a vivid lip. But why should your lips and eyes have all the fun? Try placing the color focus of your makeup look on your cheeks for an off-center, but still wearable, face. Brush a pop of coral or pink blush from the apples of your cheeks and circle it up to your temple for your most uniquely colorful look ever.
Image source: Refinery29, Brigette's Boutique
6. Pastel smokey eye
Not a dark kind of gal? Never fear! You too can pull off an elegant smokey eye with pastel eyeshadow-- that's right, pastels aren't for easter anymore! Get into a soft but vibrant color on your eye and you'll be surprised how much it brightens your face and brings out your natural coloring. Just use your fingers and an eye shadow pot in your favorite shade and dust the color all over your lid, making sure to sweep it up at the outside corners like you would winged eyeliner so the color doesn't seem heavy on your face.
Image source: Style Maeve, CVS
7. Pop of nail color
Like to keep your face natural, bare and fresh? Focus your color on your nails to get a look that's more your speed! High-gloss nails in deep rich colors are on trend this fall and match any look you're going for. Change it up as much as you want, but we recommend pairing a deep wine or purple nail with a metallic accent on your ring finger for a next-level look.
Image source: Pinterest, Chemist Warehouse, Look Fantastic
8. Spider lashes
Believe it or not, makeup artists have started embracing the clumpy mascara look rather than fighting it! And, let's be honest, that's going to make everyone's morning routine a whole lot easier. Spider lashes, as they're being called, can open your eyes up and make them look bigger without the "falsie" look. Let your mascara dry between each coat and keep building up under you get the long, spindly spider leg lashes you desire.
Image source: Byrdie, L'Oreal Paris USA
9. Not your typical cat eye
Winged eyeliner is always a classic, but you don't have to play by every rule in the book when you're drawing it on. Makeup artists are coming up with more and more variations, so do a little research and watch some tutorials to find the one that fits your look perfectly. You may even end up like Ioanna Gika and create your own look… that becomes your signature stamp!
Image source: Lazy Girls, Birchbox
10. Lacquered lip
Lips are starting to edge more and more towards the matte finish nowadays… but who says that works for everyone's style? If a glossy, vibrant lip fits in with your look, play it up bigger and better than ever! Use a high-shine lacquered gloss or lipstick, making sure to put an extra dot of gloss in the center on your bottom lip to accentuate your pout. Also, a trick for avoiding embarrassing lipstick-on-teeth encounters: take your index finger, put it in your mouth, close and pull it out. You'll get any lipstick from your inner lips that's in danger of getting on your teeth.
Image source: Beautiful Buns, Rimmell London
Previous
Next
BEGIN