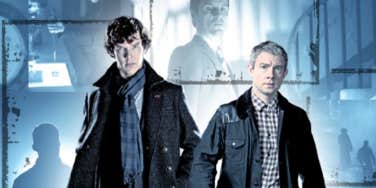 Because Benedict Cumberbatch is perfection.
*Warning: season 3 spoilers in this article, so we suggest you leave now, or quickly catch up.
It may have only been six months since we've last seen Sherlock, but not having a season 4 premiere date yet has been beyond painful. Seriously, they end it with the biggest cliffhanger, WTF moment ever and then we hear they may not be back till 2016? We can't even handle that type of news. We get it Steven Moffat, you are busy winning Emmys and writing Doctor Who, but can you just stop and work on Sherlock already?
On Monday, Sherlock took home three Emmys, which surprised most people, but not us, because we're obsessed with the show. In fact, it's actually the best show on television and as fans of a three-episode season, we suffer the most withdrawals of any fans. Basically what we're trying to say here is that this is an open letter to Steven Moffat begging him to give us a date for season four. We need Sherlock, Watson, Mycroft, Molly and especially Mrs. Hudson back in our lives again. There are only nine episodes we get to binge watch and it's just not enough.
Here are 18 reasons Sherlock really needs to come back immediately:
1. Ugh, Moriarty is alive!
First of all, um, hi Moriarty? We get it, you're an evil genius, but how are you even alive? We just don't understand and nothing can describe that moment your face popped up in Mycroft's car. Do you hear that? That was the sound of our jaws smacking into floor.
2. Benedict Cumberbatch is the only Sherlock.
Robert Downey Who? In our minds Benedict Cumberbatch is literally the only human qualified to play Sherlock.
3. Steven Moffat teased us.
He said that season 4 would be devastating. How could it possibly be as devastating as season 2 when we thought Sherlock had died? We cried for a long time.
4. Best bromance ever!
No bromance is better suited than that of Benedict and Martin Freeman. Have you seen them together in The Hobbit? Okay, bad example, but still they probably beat out the Patrick Stewart/Ian McKellan bromance, and that is saying a lot.
5. Mrs. Hudson is the best.
Because we just miss Mrs. Hudson. She's the best neighbor. We would kill for a Mrs. Hudson.
Ugh Mary, you're the worst!
Also, remember when we found out that Mary is an evil biatch? That was annoying.
7. Sherlock is always surprising us.
The fact that Sherlock never ceases to amaze you with how he comes to his conclusions is crazy. You always try to think like him but it just doesn't work out.
8. When is the premiere?
Seriously, the fact that we don't have an exact premiere date to look forward to is really stressful.
9. He just understands you.
Sherlock just understands you. He understands your hatred of other people and embraces you for it. You're going through withdrawals, and he gets that, too.
10. Gay or straight?
You just need to know whether he's gay or straight. Just tell me! He's probably gay, all the best ones are.
11. That intro song is everything.
That intro song is magic and takes you to a level of excitement that the Game of Thrones song just can't do.
12. ...And Anderson, kind of.
Maybe this season Anderson will be right about just one thing.
13. We even miss Mycroft.
Mycroft deserves a little bit of respect. Plus, we seem to like him more and more every season.
14. That moment he faked his own death.
When you found out how Sherlock faked his own death, you actually have never been more impressed or excited about anything in your entire life.
15. It's emotionally draining and amazing.
No other show makes you so emotional and happy and sweaty at the same time. Especially the last vow, which was the most stressful episode of all time.
16. Yes, Watson's blog is saved in your favorites.
16. You're tired of checking up on Watson's blog in hopes that he may have updated it.
17. You love a sociopath.
Because you're in love with a sociopath and you need him back in your life as soon as humanly possible.
18. Yeah, so about Moriarty...
SERIOUSLY, did we mention that Moriarty is back because that's a real big problem and very disconcerning. HOW IS HE STILL ALIVE? Just tell us. Please.
Previous
Next
BEGIN