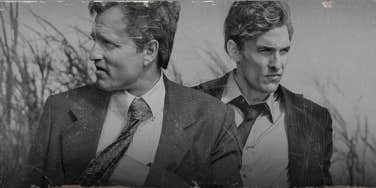 The latest casting news is better than you could've imagined!
Good news, True Detective fans! HBO just announced three major roles. Rachel McAdams, Taylor Kitsch and Kelly Reilly will join Colin Farrell and Vince Vaughn in True Detective Season 2. If you weren't already freaking out about the show's return, you sure will be now.
According to Entertainment Weekly, Rachel McAdams will play Ani Bezzerides, a Ventura County Sheriff's detective with uncompromising ethics. Taylor Kitsch will play Paul Woodrugh, a war veteran and motorcycle officer with a troubling past. Kelly Reilly will play Jordan, Frank Semyon's wife, who is a former D-list actress.
Colin Farrell, who was previously confirmed, will play Ray Velcoro, a detective whose torn between his corrupt police department and a mobster.
Vince Vaughn, also previously confirmed, will play Frank Semyon, a criminal and entrepreneur.
If you haven't watched the HBO show yet, it centers around two detectives who are brought together 17 years after their fallout to be questioned about a murder case they worked on in the late 90s. The story is told in flashbacks and it's basically brilliant.
HBO confirmed production for season 2 is underway, and now after a summer of speculation, we finally have an idea who the lead actors are in the show. We also know that next season takes place in California, but not Los Angeles. Whatever happens, we are just anxiously awaiting the return ... whenever that may be.
Until then we are holding you over with 15 awesome facts you may not know about the show.
1. Who is in season 2?
Christian Bale and Jessica Chastain were considered for the main roles in season 2, but both of them had scheduling issues and couldn't commit to the series.
2. The shows average gross audience was 11.2 million viewers.
True Detective was the most viewed first season of any HBO show since Six Feet Under in 2001.
3. Director, Cary Joji Fukunaga won the Emmy!
Cary Joji Fukunaga was the only True Detective winner at the Emmys on Monday night. He is everyone's obsession this week. Too bad he won't be back to direct season 2.
4. The show is a contained story.
Meaning that, like American Horror Story, every season of True Detective will be a completely new story with new characters.
5. The show was originally supposed to be a novel.
Writer Nic Pozzolatto originally intended for the show to be a novel. Instead, as he was writing, he decided it was better suited for TV.
6. Pozzolatto is a Louisiana native.
It should also be noted that Pozzolatto is adapting his crime novel, Galveston, into a movie that is set to come out next year. Surprise, surprise: the movie takes place in New Orleans.
7. There were bidding wars over the show's distribution.
HBO and FX fought for the rights to the show. Ultimately HBO won out, but even Showtime was trying to get in there and take it.
8. McConaughey was asked to play Marty first.
Pozzolatto originally wanted McConaughey to play the role of Marty, but the oft-shirtless star insisted that he play Rust. Good choice, Matthew. He even signed on for the project before HBO picked it up.
9. 'TD' was McConaughey's first TV series.
True Detective was the very first TV series that McConaughey signed on for as a series regular. He has confirmed that he will not be back for season 2.
10. He actually signed on before he even read the entire script.
He told Deadline, "I read those first two episodes, and the quality was so apparent, and had such an identity to it that even without reading the final six episodes, I felt this was going to be hard to screw up."
11. There is a long shot you may not have caught.
There is a scene where Rust undercover goes in a house in a rundown neighborhood trying to gain information when the cops show up and there is a chase scene through the neighborhood. This six-minute scene was done in one shot and in one take, and was probably one of the main reasons Fukunaga took home the award.
12. Matthew suggested Woody for the role of Marty.
"I've been told I was the one who said, 'You got to go to Woody for this.' I don't know if that came out of my mouth first, but I know that if it didn't, I agreed when I heard it and knew he was a great choice right away."
13. They shot 450 pages of script in six months.
14. They brought their families to Louisiana.
For six months while they shot to make it easier for them.
15. McConaughey and Harrelson are really close friends.
He told Metro, "I love Matthew McConaughey, he's like a brother to me. I honestly wouldn't have done it, except that Matthew was doing it."
Previous
Next
BEGIN