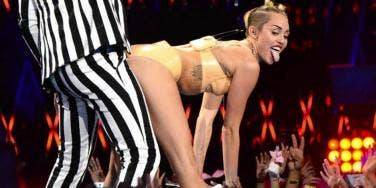 Miley Cyrus said she retired twerking. Here's what she can do instead to pass the time.
Remember last year at the VMAs when Miley Cyrus went up on stage and acted a fool, and she claimed that what she was doing was called twerking? And we were all like "No, that wasn't twerking. I'm not sure what twerking is, but that definitely wasn't it." And then MTV tried to act like it was a really popular thing and everyone was kind of uncomfortable and confused?
Well, good news: That's never going to happen again! Miley Cyrus announced during last night's VMA preshow that she's retiring from twerking! Or at least, that thing that she does that she considers twerking. Her new music is going to go for a new sound, one that twerking doesn't really fit with. Or at least, that thing that she does that she thinks is twerking, but no, it's not twerking, please stop calling it that.
Well, now that Miley's moving on, we all have one question: What is she going to do now that she's not going to twerk anymore? Not that she ever really did twerk, but you get what I mean. Here are a couple of different things she can claim to do next, but really just go up on stage and be super awkward and clumsy instead.
She can swing!
She can go fight Nazis with the power of swing music, just like the Swing Kids did!
She can step up!
Sometimes, you gotta take your dance to the streets, so maybe Miley's next step is to combine ballet and break dancing.
She can save the last dance!
Or she could save an inner city youth from a life of violence by teaching him how to ballet dance, like in Save the Last Dance.
She can be a newsie!
The newsies didn't just sing and dance, they also delivered newspapers. Miley can do that!
She can get footloose!
If there really is a town out there that's outlawed dancing, maybe Miley can go be a modern day Kevin Bacon!
She can dirty dance!
Miley could go to a stuffy, uptight resort and teach the kids there what real dirty dancing is.
She can learn deadly combat!
Dancing and fighting are very similar, so if she really wants to prove herself, she can start Mortal Kombat-ing!
She can street fight!
Or she can become the ultimate street fighter!
She can culturally appropriate Samuel L. Jackson!
She can go find planes full of snakes and get the snakes off the planes. Snake don't belong on planes!
She can coach!
Lastly, if she wants to help at risk teens, maybe she could go be a strict coach for an inner city basketball team while also culturally appropriating from African Americans the way she loves to do!
Previous
Next
BEGIN