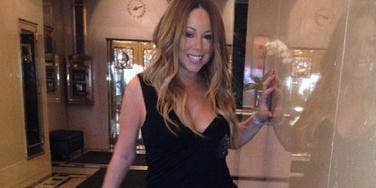 Mariah Carey might be single soon. Who should Mimi date next?
Mariah Carey and her second husband Nick Cannon are living separate lives after six years of marriage and Dem Babies. While Carey has remain tight-lipped about the marital woes, Cannon has confirmed that he and his wife are living apart and that there is trouble in paradise. He did say that their first priority remains their twins, who just turned 3 on April 30, which is the Carey x Cannon wedding anniversary. Crazy, right?
While Carey and Cannon seemed to compliment one another —her glamazon divaness was balanced out by his childlike humor— we can't help but wonder if the end is nigh for this marriage. Perhaps Mimi and Nick will be able to work things out, fix their union and find their way back to the happiness that they both deserve. Or maybe they won't and will eventually part ways.
If the latter is the case, well, that would mean Mimi would be back on the market after a long absence. She is a total catch.
Gorgeous? Yep. Talented? Beyond. A strong woman? Absolutely. Any man with a brain (and a pulse) would be wise to pursue Mimi. She is all woman and wonderful, and she is a diva of the highest order, so it would take a special kind of man to be able to handle her, to satisfy her and to be her equal.
Here are 10 handsome hunks that Mariah Carey could or even should date next.
Nothing but the best for Mimi.
Marc Anthony
1. Marc Anthony: A diva war might ensue over this, but Mimi could totally hook up with J. Lo's ex. They both have twins! Come on! Monroe, Moroccan, Max and Emme play dates would be rad. Bring it.
Prince Harry
9. Prince Harry: He is British royalty. She is American — make that global— pop music royalty. The Prince and The Queen. It'd be like a fairytale. There'd be no better cougar than Mariah Carey, either!
Usher
8. Usher: Imagine the beautiful music that Mimi and Usher would make? Swoon. Knees weak. We can't even. The R&B world would stop spinning on its axis. Their duet "How Much" was incredible, and we need more. Especially a ballad!
Diddy
7. Diddy: He's been with singer Cassie forever, but Diddy is smart, rich, sexy, insanely charming and totally awesome, just like Mimi. How about another J. Lo ex for Meemz?
Lenny Kravitz
6. Lenny Kravitz: The singer (and her Precious co-star) is a stylish, snazzy dresser and a huge talent. Don't act like you can't picture him and Mimi holding hands while sunning themselves on a yacht or holding onto one another while cruising down a street on a moped in downtown NYC.
Drake
5. Drake: The rapper is another person Mimi could make beautiful music with! Drake is clean-cut, sensitive, cute and Carey-ready.
Colin Farrell
4. Colin Farrell: The handsome actor has two kids. Mimi has two kids. See where we are going here?
Jake Gyllenhaal
3. Jake Gyllenhaal: The hunky actor is a perennially eligible bachelor. They'd be such a hot pair and Mimi wouldn't write albums worth of songs about him, like his ex Taylor Swift allegedly did.
Chris Martin
2. Chris Martin: Who cares if he is reportedly loved up with Jennifer Lawrence as his first post-Gwynnie romance? He is a singer and a songwriter, and he is a true musical talent. Just like Mimi. Duet, anyone?
Robin Thicke
10. Robin Thicke: Could Carey help him mend his broken heart after the split with Paula Patton? Lord knows his creepy Patton-centric album Paula flopped, as did her Me. I Am Mariah ... The Elusive Chanteuse, so this could be a personal and professional pick me up for both singers. Redemption!
Previous
Next
BEGIN