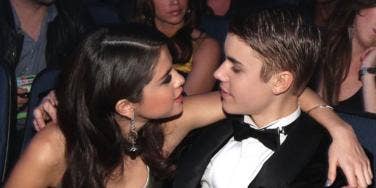 Some couples are magnetically attracted! Here are 18 on-again, off-again celeb couples.
Some couples are magnetically attracted.
They are like peanut butter and jelly. They belong together. But then they break up. But they can't stay apart.
Some celeb couples may break up as often as most of us swap out our undies, but they somehow find themselves back together. Two key examples of celeb couples that are on-off, on-off like lightswitches are Justin Bieber and Selena Gomez, aka "Jelena," who split a lot but not for other people, and Chris Brown and Karrueche Tran, who've had their relationship interrupted by his inability to fully end things with Rihanna, his jail stints, his craziness and more!
There are plenty of celeb couples that split only to reunite, which to borrow a phrase from the Peaches & Herb song, feels so good.
Actors Chris Evans and Minka Kelly dated in 2007 and then reunited in 2012, only to split once again in 2013, while her ex, New York Yankees captain Derek Jeter, has been on-off with Sports Illustrated model Hannah Davis here and there. Then there is Eminem, who married and divorced Kim Mathers, infamously wrote songs about her death, married her again and divorced her again. We're exhausted just thinking about their coupledom!
Here are 18 other couples that gave love a go more than once. Some duos are still together. Some aren't.
Let's spin the relationship 'go round.
Brian Austin Green and Megan Fox
1. Megan Fox and Brian Austin Green: They hooked up when she got to Hollywood. Then they broke up. Then they got married. Now they have two sons.
Tom Hanks and Rita Wilson
17. Tom Hanks and Rita Wilson: This long-wed couple supposedly took some time off. For a month. That's not uncommon. They embody true love.
Sofia Vergara and Nick Loeb
16. Sofia Vergara and Nick Loeb: With the voluptuous actress seemingly loved up with Joe Manganiello, this relationship might have nails in its coffin.
Selena Gomez and Justin Bieber
15. Justin Bieber and Selena Gomez: You need a full team of assistants to keep up with these two and their splits.
Scott Disick and Kourtney Kardashian
14. Scott Disick and Kourtney Kardashian: What can we say? They have two kids, with a third on the way. Lord Disick is here to stay. We're poets.
Robert Pattinson and Kristen Stewart
13. Kristen Stewart and Robert Pattinson: The real-life Bella and Edward dealt with a public scandal in 2012 (she cheated and got caught with her then-married director, Rupert Sanders), her very public apology, their time apart and their reunion. They split again in 2013 and 2014.
Rihanna and Drake
12. Rihanna and Drake: Like her romance with Breezy, Rihanna has dated and split from and dated and split from Drake. Their most recent dalliance was this spring, but they may be back together yet again after being spotted partying closely in New York.
Rachel Bilson and Hayden Christensen
11. Rachel Bilson and Hayden Christensen: They are expecting a child, so something tells us this pair will be staying on the "on" tip ... for now.
Pamela Anderson
10. Pamela Anderson and Everyone: She and Tommy Lee were on-off. She and Kid Rock were on-off. So are she and current hubby Rick Salomon. Pam can't let go with any of her dudes. Stage 5 Clinger, maybe?
Nicholas Hoult and Jennifer Lawrence
9. Jennifer Lawrence and Nicholas Hoult: They dated before, got back together and split again, somewhat quietly, this summer. She is reportedly seeing Chris Martin of Coldplay now, so she is consciously coupled and he traded up. Sorry, Gwynnie!
Katy Perry and John Mayer
8. Katy Perry and John Mayer: They dated in 2012. And split. They got back together in 2013. And split. They parted ways for good (one hopes) in 2014.
Karrueche Tran and Chris Brown
7. Chris Brown and Karrueche Tran: She is a saint or just lacks a modicum of self-respect, since she puts up with his temper, his arrests and his continued dalliances with Rihanna. They are always on and always off.
Justin Timberlake and Jessica Biel
6. Justin Timberlake and Jessica Biel: They broke up in 2011. He then called her the most important person in his life in Vanity Fair. But by 2012, they were married, and she wore a pink dress.
Jai Brooks and Ariana Grande
5. Ariana Grande and Jai Brooks: The singer and the Aussie prankster dated long distance, ending just before her convenient hookup with The Wanted's Nathan Sykes (with whom she just happened to drop a duet). Brooks subsequently went on bitter Twitter rants that accused her of cheating. They still got back together this past spring. They just broke up again. This all happened between 2013 and 2014.
Hilary Duff and Mike Comrie
4. Hilary Duff and Mike Comrie: Uh, these two split at the top of 2014, but they are always together. They say it's for the sake of their son Luca, but they also play coy when asked about the possibility of reuniting.
Danny DeVito and Rhea Perlman
3. Danny De Vito and Rhea Perlman: The long-married funny duo, wed for 30 years, split in late 2012, but by mid-2013, they were trying to work it out. All is now well with them. We think. Whew.
Chris Brown and Rihanna
2. Chris Brown and Rihanna: They dated. He beat her up. They split. She took him back years later. They split again. It's a dangerous cycle with these two.
Taylor Swift
18. Taylor Swift and L-O-V-E Itself: T. Swizzle is on and off with love itself. She has said she is learning to exist without a romance. Good for her! But her last "major" romance with One Direction cutie Harry Styles and they dated for like a total of four months, and that included a split and a period apart.
Previous
Next
BEGIN