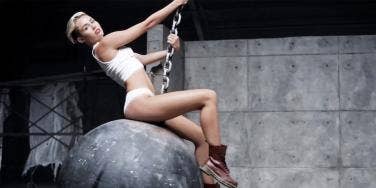 Here's a collection of Miley Cyrus' fellow celebrity potheads!
Remember that episode of South Park where they introduced the character Towelie, and walking, talking towel that loves to get high? Apparently Miley Cyrus missed the end of the episode where the character was dubbed "the worst character ever" because she's been emulating Towelie for the last few years. The only difference between Towelie and Miley is that Towelie is a towel and is probably clean, and Miley is not clean. She's the exact opposite of clean, and I mean that in a literal sense—have you seen her tongue?
Miley recently posted photos to her Instagram account showing off a new homemade bong. It's big, colorful, and complicated looking, and she's super impressed with herself for making it. A few things: first, Miley Cyrus, you're rich, so you can buy stuff, it's not an accomplishment that you put beads on a five-foot bong. Second, nobody is impressed that you smoke pot. It's also not an accomplishment.
She's not the only celebrity pothead other there. There are plenty of celebs that love to get high and aren't shy about it. Here's a collection of Miley's fellow celebrity potheads!
Miley Cyrus
Miley Cyrus thinks smoking weed makes her rebellious and badass, just like lots of other annoying young white girls born into money.
Lil Wayne
Lil Wayne almost died from what was allegedly too much sizzurp, so maybe he should just stick to smoking weed from now on.
Drake
Drake raps about kush. He's also softer than a Tempur-Pedic mattress.
Zach Galifianakis
This comedian once lit up a joint on Bill Maher's show, and also clearly gets the munchies pretty often.
Snoop Dogg
I was shocked to find out Snopp Dogg smoked pot. I thought he just liked to drink juice.
Seth Rogen
Seth Rogen plays a pot head in basically every movie he's in, because he pretty much has to.
Rihanna
Ever notice how Rihanna only writes like one or two lyrics in her songs? Because she's too stoned too focus.
Matthew McConaughey
Sometimes Matthew McConaughey gets a little high and forgets to put on a shirt. Sometimes.
Lady Gaga
Lady Gaga once wore a dress made out of meat, in case she needed a snack. Total pot head move.
Kristen Stewart
Maybe Kristen Stewart needs to get high to be able to stand being around herself or to go through "Twilight" dialogue without wanting to die.
Kevin Smith
Kevin Smith used to not smoke, but now that he started it's all he can talk about now.
Jennifer Lawrence
Jennifer Lawrence smokes pot because, you know, she's just like you! Or at least that's what her genius marketing team wants us to believe.
James Franco
Either James Franco smokes pot, or pot smokes James Franco.
Jack Nicholson
Jack Nicholson is a proud weed smoker. If the family in The Shining had had a little bit of pot, then they would've had a delightful winter.
Harrison Ford
Pot's the only thing that keeps Harrison Ford from being the grouchiest man of all time. Without it, he may take the title from Tommy Lee Jones.
Doug Benson
Doug Benson has made a career from getting high, which is usually the opposite of what happens to pot heads.
Cameron Diaz
This explains some of Cameron Diaz's recent movie choices.
Danny McBride
Danny McBride is another celeb who probably wouldn't have a career if not for getting high.
Jennifer Aniston
Jennifer Aniston used to love smoking pot with Brad Pitt. Now she probably loves smoking pot to forget Brad Pitt.
Charlize Theron
Charlize Theron was once photographed using an apple as a bong. You'd think it'd make her a nicer person, but considering she tried getting Tia Mowry banned from SoulCycle and she's dating Sean Penn, it seems to be affecting her pretty adversely.
Chris Brown
Chris Brown requested that he be able to smoke medicinal marijuana to deal with his anger issues, but who knows if it actually helped?
Justin Bieber
Justin Bieber gets high to reconcile the fact that he's Justin Bieber. And maybe that he'll need Botox before he can legally rent a car if he keeps doing that with his face.
Kylie Jenner
Kylie Jenner hasn't actually been caught smoking weed, but she's been spotted wearing marijuana leaf socks and hanging out with Justin Bieber, so it's pretty easy to hypothesize that that's how she copes with being the least relevant Kardashian.
Previous
Next
BEGIN