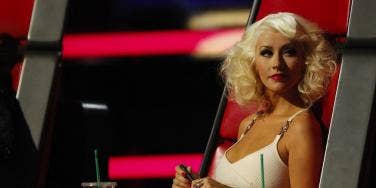 Check out the weirdest celebrity baby names ever!
Christina Aguilera just gave birth to a baby girl, so congratulations are in order. Except for the actual baby. Normally, being born to a famous, super rich family would be great news, but no so for this child. Christina Aguilera is a celebrity, so that means that she has to give her kid a ridiculous name.
She named her daughter Summer Rain. Which is pretty, but also weird and short sighted. When you name your kid, you have to think about how they might get made fun of for it. Its going to be super easy for other kids to make fun of this kid. They could be like "Hey, turns out Summer ain't so hot" or "Looks like a cold Summer" or "Hey, your name is stupid." And the thing is, compared to other stars, Aguilera's name for her little diva isn't even close to being as bad as the rest.
Summer won't be lonely. She'll be joining a club full of celebrity babies with dumb names. I know that its cool to give your kid a unique name, but not it's actually not cool. It's a kid, not a puppy. Eventually, its going to grow up to be an adult filling out job applications and having to write whatever stupid thing you gave them as a name and feeling nothing but sadness. Check out the weirdest celebrity baby names ever!
Ashlee Simpson - Bronx Mowgli
She named her kid Bronx, but she's not even famous anymore, so her kid got really screwed over.
Kate Winslet - Bear
She's the mother of Bear. Yup, no way kids can make fun of that name.
Jessica Simpson - Ace Knute
She came up with the name Ace Knute. I'm not even sure what that means.
Gwyneth Paltrow - Apple and Moses
She and her consciously uncoupled husband Chris Martin have children named Apple and Moses, because of course they do.
Jason Lee - Pilot Inspektor
His kid is named Pilot Inspektor. I'm not sure what's worse, the name or the mispelling.
Kim Kardashian - North West
Her daughter is named North, because the dad's last name is West. GET IT? DO YOU GET IT?
Penn Jillette - Moxie Crimefighter
Moxie Crimefighter? More like Sadly Cry-hider.
Sarah Michelle Gellar - Rocky
She and her not-famous-anymore husband Freddie Prinze Jr. named their kid Rocky. Which is the least attractive person name ever.
David Duchovny - Kyd
His Kyd is named kid. Or wait, I might have that backwards.
Mariah Carey - Moroccan and Monroe
She and Nick Cannon have a kid named Moroccan, so hopefully they never go to Morroco.
Nicolas Cage - Kal-El
Cage named his Kal-El. After Superman. You know, the thing that Nicolas certainly isn't.
Bono - Memphis
His child is named Memphis Eve. You know, the day before Memphis.
Jason Bateman - Maple
Et tu, Jason Bateman? Et tu? Maple is not a people's name, it's a syrup!
Reese Witherspoon - Tennessee
She named her kid Tennessee, because she thinks she's still famous.
Previous
Next
BEGIN