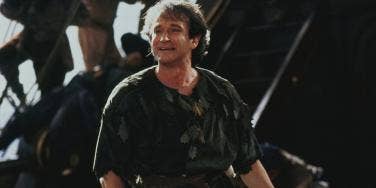 "To die would be a great adventure."
In 1991, a version of Peter Pan was released, and it was unlike any other. Robin Williams, Dustin Hoffman and Julia Roberts all took on our favorite characters and created one of the classic movies of our generation. Even though we can't bring back Robin Williams, we can honor him by talking about all of his movies that inspired us. Hook was one of those movies that will always remind us of our childhood. It taught us that it's important to grow up, but it's more important to remember that sometimes it's okay to act like a kid. As our generation is stuck right in the middle of that transition into adulthood, we should all remember that life is a big adventure.
Robin Williams taught us that from the time we were children through today. Even though he's no longer with us, his words will always resonate with us: "To die would be a great adventure." To honor Williams' work, we've gone into the past and found 14 things that you may not have known about the classic Peter Pan story.
So, In the words of Peter, "You two-toned zebra-headed, slime-coated, pimple-farmin', paramecium brain, munchin' on your own mucus, suffering from Peter Pan envy!"
1. Max Hoffman plays little Peter.
Five-year-old Peter is played by Dustin Hoffman's son, Max! He was also in Meet The Fockers with his dad.
2. 'Hook' was directed by Steven Spielberg.
In case you forgot or just didn't even realize it. He makes a cameo in the movie when he leads a pirate march onto Hook's ship.
3. "Tinkerhell"
Supposedly, because she was hard to work with, Julia Roberts was nicknamed "Tinkerhell".
4. Phil Collins (yes, Genesis) is in 'Hook.'
He's one of the inspectors Robin Williams reports his missing kids to. No big deal.
5. Maggie Smith was playing a 92-year-old.
Even though she was only 56 at the time, they made her look much older in the film.
6. Carrie Fisher and George Lucas make a cameo!
Carrie and George are the couple who are making out on the bridge when they get hit with fairy dust as Peter and Tink fly over them.
7. Tom Hanks was almost Peter!
Well, he was considered, but Robin Williams was clearly the best choice. Kevin Kline was also in the running.
8. Glenn Close was a pirate in the film.
Yes, that's right, Cruella de Vil was the bearded pirate that gets locked in the wooden chest.
9. The film was supposed to be made in 1983.
Michael Jackson wanted to star in the film, but Spielberg was too busy working on Indiana Jones and The Temple of Doom. In 1989, he resumed the project.
10. "Bangarang" actually means something.
It's Jamaican for disorder or disturbance.
11. Gwyneth Paltrow also appears in the movie.
She plays teenage Wendy. This was her second movie ever.
12. Julia had an assistant to clean her feet.
Since she was always barefoot, there was a person specifically cleaning her feet on set.
13. Jimmy Buffet makes a cameo!
Right when Peter gets to Neverland, he is one of the pirates who tries to steal his shoes.
14. David Bowie turned down the role of Hook.
Previous
Next
BEGIN