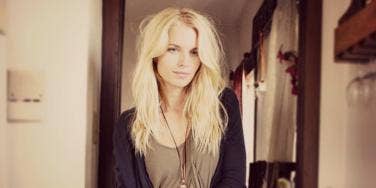 Give your hair a break with these sweat-proof and seriously sexy styles.
Summer dress? Check. Wedges? Definitely. Cute purse? Oh, yes. Hair? Uh-oh. While dressing for summer dates is fun and easy (hello, rompers and sundresses!), what you do with your hair is a whole other story ... a difficult one to get through sometimes.
Blow dryers. Curling irons. Straightening tools. Ugh. Somewhere down the line, we were wired to think we need to turn up serious heat if we want to look hot on date night. But with the summer in full-force and the humidity at it's worst, the thought of heat styling (and how gross your will room get) is downright dreadful. Who needs pin straight hair or curls, anyway? But what to do with your hair before your date - especially if those are your go-to styles?
It's time to unplug. Give your hair a much-needed break (before you end up splitting on it and your next date) and provide strands with some major breathing room with these sweat-proof — and seriously sexy — styles. Whether you're going to a summer BBQ, movie or are off to play a round of mini golf, these flirty styles are effortless, chic and most importantly, cool.
From sexy beachy waves to better-off buns, with these no-heat styles you'll be hotter than that blow dryer gets in the middle of August.
Making Waves
1. Making Waves
Take him back to first beach dates frolicking in the ocean with some light handwork and a sea salt spray. We suggest dividing hair into various sections (creating mini buns if possible) before applying, then unwinding each for added texture and volume.

Better Off Bun
2. Better-Off Bun
Have some last-minute errands to run before your date? Avoid getting stressed out (which can linger into your evening) and have the time work for you with a high-achieving 'do. Simply towel-dry hair and work in a volumizing mousse (or, if you're looking for a more polished look, opt for a smoothing cream and a soft-bristle brush) and twist upward. Then, warp hair in a circular motion until creating a bun (a knot is also a great alternative for shorter hairstyles).
Upon your return, add a light coat of hairspray to any frizz-prone areas, or unravel hair to reveal beautifully-tousled tresses.

weheartit.com
Go With the Band
3. Go With the Band
Especially great for days in between washings (when roots can tend to get a bit oily), buy yourself some time (and have it look intentional) with a little dry shampoo and a complementary head piece. If a thin band won't do the trick, opt for a thicker fabric style. We also love floral crowns for anything outdoors.

weheartit.com
Low Rider
4. Low Rider
Whether you're working with dry hair (better for more formal occasions) or wet (which can work great for casual outings), don't underestimate the power of pumping up your roots with a lifting spray, then taking the rest of your hairstyle down a notch with a lightly-tousled, low pony. Just secure with a neutral-colored holder - or something dressier if you're feeling fancy - and you're good to go.
A Tail to Remember
5. A Tail To Remember
If you're looking to make a big splash with minimal effort, take a cue from celebs like Nina Dobrev, Rihanna and Blake Lively and get flirty with a fishtail braid. It can be woven tightly for a more polished look, or loosely for a free-spirited effect. See this fishtail braid video tutorial.


weheartit.com
Previous
Next
BEGIN