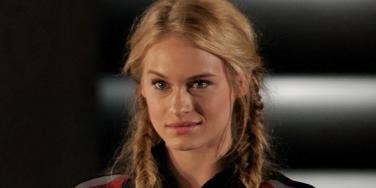 These hot stars all wrecked some homes.
Actress Leven Ramblin and actor Jim Parrack recently announced their engagement. According to People, Parrack recently popped the question to The Hunger Games starlet. Parrack is known for his role on the hit tv show True Blood. Everyone wishes the couple the best of luck.
Well, not everyone. Parrack's ex-wife probably isn't wishing them the best of luck, or even just decent luck. That's because when you look at the timing of the whole thing, it seems pretty fishy: Parrack and Rambin started dating immediately after Parrack officially divorced his wife, whom he'd been married to for six years. One can probably imagine that she doesn't have warm thoughts for the couple, because his ex-wife is not the late Mother Teresa.
This situation isn't that uncommon in Hollywood (or anywhere else, for that matter). Actors and other celebrities work long hours together, and often end up hooking up with their costars, even if they're already spoken for. (To be fair, it's hard to be a "homewrecker" unless someone within that home is willing to cheat on his or her partner!) Basically, if you have a home, watch out because some celebrity is going to come along and wreck it. Here are 15 celebs who have already done it!
Sandra Bullock
Everyone felt so bad for Sandra Bullock when her husband Jesse James cheated on her. They all forgot that James left his pregnant wife for Bullock previously, which makes this a case of what goes around coming back around.
Russell Crowe
Russell Crowe hooked up with Meg Ryan while she was both still married and also still cute.
LeAnn Rimes
Don't marry the guy who cheated on his wife with you. LeAnn Rimes learned this the hard way, when husband Eddie Cibrian reportedly cheated on her just like he did with his last wife, Brandi Glanville.
Dean McDermott
Adding another layer of sleaze to this True Tori, Dean McDermott was also married when he met Tori. They met on the set of a Lifetime movie, which is exactly what this sounds like the plot of.
Tori Spelling
Tori Spelling's current husband, Dean McDermott, cheated on his then-wife with Tori. He ended up cheating on Tori, which is only surprising in that this many women would sleep with Dean McDermott.
Kristen Stewart
Kristen Stewart hooked up with the already married director of the forgettable Snow White and the Huntsman. His marriage eventually ended, and her reign of cinematic mediocrity continues.
Kim Kardashian
Kim Kardashian's current husband, Kanye West, was supposedly still dating Amber Rose when she showed up and sent him naked pics. Klassy!
Kanye West
Kanye West also stole Kim Kardashian away from Reggie Bush when they were still together. They're made for each other and deserve each other.
Justin Bieber
Justin Bieber allegedly hooked up with Orlando Bloom's then-wife, Miranda Kerr. Orlando Bloom got to live out everyone's dream when he punched Biebs in the face over it.
Denise Richards
Denise Richards not only broke up a marriage, she broke up her friend's marriage. She hooked up with Richie Sambora, then-husband of her friend Heather Locklear.
Claire Danes
Claire Danes stole Billy Crudup away from his pregnant girlfriend of eight years, Mary-Louise Parker. Then she reportedly ended up cheating on him. Seems like a nice girl.
Britney Spears
Kevin Federline was already engaged to the mother of his children, Shar Jackson, when he broke it off for Britney Spears. Knowing that information makes the whole situation so much more confusing. Britney wrecked a home for K-Fed? Really? Seems like she could've just let him get away.
Angelina Jolie
They might be Hollywood's power couple these days, but when Angelina Jolie and Brad Pitt first met, he was already married to Jennifer Aniston. Guess who isn't one of Aniston's friends?
Alicia Keys
Alicia Keys hooked up with Swizz Beatz suspiciously close to his marriage ending. She denies it, but the timeline is still fishy.
Olivia Munn
Olivia Munn hooked up with Justin Timberlake, which would be awesome for her except he was still with Jessica Biel at the time. She claims she didn't know, which is a shame because in other circumstances she should totally be able to brag about this.
Previous
Next
BEGIN