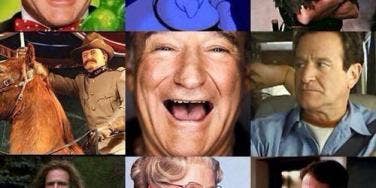 Robin Williams was a true entertainer who had the ability to make the whole world love and laugh with him. Our hearts are heavy waking up today knowing another great has passed on. In honor of the beautifully funny and creative genius that he was, we put together a gallery of the brilliant Robin performances that helped shape our childhoods and made us think. Rest in peace, dear man.
Aladdin (1992)
Aladdin
Aladdin would not be Aladdin without the singing, ad-libbing Genie, who undoubtably is one of Disney's most memorable characters. The fact that Williams' was able to infuse a vulnerability into such a comedic character only confirms what an immense talent he was.
Patch Adams (1998)
Patch Adams
Patch Adams was a heartbreakingly beautiful film that confirmed our belief that humans are, indeed, good people and that humor can always help ease pain.
Mrs. Doubtfire (1993)
Mrs. Doubtfire
This movie was a wonderful childhood memory for many. Robin Williams could turn into Mrs. Doubfire and the pain of having separated parents was suddenly calmer, easier, and a HECK of a lot funnier.
Jack (1996)
Jack
Jack was a story about a boy whose body grew too fast. Robin always seemed to know how to connect to multiple generations, on all levels.
Hook (1991)
Hook
Many childhoods were more magical because of this Peter Pan remake - and Williams' performance as the one and only Peter had plenty to do with that. The Neverland adventures will remain with us forever. Bangarang, Peter!
Good Will Hunting (1997)
Good Will Hunting
Robin played a therapist to help Matt Damon's character open up and become someone greater than himself. He was wise and patient - traits we always believed the real Mr. Wiliams' embodied himself.
Flubber (1997)
Flubber
Perfectly-executed children's movie, full of whacky, silly, whimsical fun. Robin's inner zaniness came out in full force and he transformed fully into the seemingly nut-ball professor, solidifying his place in the hearts of many children.
Dead Poets Society (1989)
Dead Poets Society
Robin played the character of inspirational English teacher John Keats so darn well, he urged generations of dreamers to 'make their lives extraordinary.'
The Birdcage (1996)
The Birdcage
It's truly difficult to pick the funniest scene in this movie because Robin steals the show with every. single. one. The story of a gay couple who own a drag bar in South Beach, trying to act straight for the sake of their son's girlfriend, was one of William's most side-splitting roles.
Good Morning, Vietnam (1987)
Good Morning, Vietnam
In true Robin fashion, he made everyone smile as the world grew darker around them. Making light of a serious situation, and keeping spirits high seemed to be his specialty.
Previous
Next
BEGIN