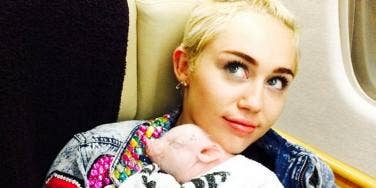 Miley Cyrus adopted a pet pig. She's not the only celeb with a weird or unusual pet!
Miley Cyrus loves her pets ... a lot.
In fact, the former Hannah Montana was so devastated by the spring 2014 death of her dog Floyd, which happened while she was smack dab in the middle of the U.S. leg of her Bangerz Tour, that she mourned him publicly on Instagram, canceled shows and immortalized him with a new tattoo.
The singer has a pack of pooches at her L.A. crib and only recently added her new dog Emu to the mix.
But wait! That's not all.
Cyrus has yet again expanded her fur baby family, but not with another canine. Nope! Instead, Cyrus added a pet pig named Bubba Sue to her cache of critters.
Bubba Sue is a precious pig, and please, check those tasteless swine and bacon comments and nonsense at the door, thank you! Bubba Sue is a newly-minted member of the Cyrus posse and of Billy Ray and Tish's family.
Cyrus shared several pics of herself nuzzling, cuddling and bonding with B. Sue.
As it turns out, Miley Cyrus isn't the sole celeb with a weird pet fetish. Plenty of other Hollywood types have (or had) exotic, strange and unusual pets. But then again, they can afford to!
Who has lemurs? What about a white chicken?
Find out!
Paris Hilton
1. The heiress had a pet kinkajou named Baby Luv. Kinkajous are rainforest mammals, so yes, they are exotic. They are also distantly related to raccoons. Baby Luv once bit Mama Paris in 2006 and she had to get a tetanus shot. The critter chomped on P. Hilt's arm while they were playing. It was not an aggressive bite.
Mike Tyson
2. Mike Tyson once owned white Bengal tigers for a year. They reportedly cost hundreds of thousands of dollars. They are no longer in his possession, but you can see how much the boxer loves tigers in The Hangover franchise.
Kirstie Alley
3. Kirstie Alley loves lemurs, which are cute primates that make for exotic pets. They look a bit like raccoons. The actress often tweets about her lemurs.
Reese Witherspoon
4. The Oscar winnner reportedly had (or has) donkeys, pigs, chickens and more. She was raised in the south, so the fact that she would have (or had) a cache of farm animals isn't shocking.
Tori Spelling
5. Reality star Tori Spelling has a silkie bantam chicken named Coco. As in Coco Chanel. They are said to be an ornamental breed, with poufy white hair. They are also said to be in possession of sweet and material personalities. Check out Coco right there! Adorbs and weird, right?
Justin Bieber
6. Okay, this is a problematic situation. Justin Bieber, who once had a hamster named Pac that he gifted to a Belieber, was very briefly BFFs with Mally, a capuchin monkey. He took the simian on tour and it was quarantined in Germany since The Biebs did not have the proper paperwork. The authorities tried to get The Biebs to properly retrieve (and pay for) his pet but he didn't. Mally was then transferred to a zoo. It was really irresponsible pet ownership on Bieber's part, since Mally is a living, breathing being.
Miley Cyrus
7. Miley Cyrus' pig Bubba Sue is too cute and she clearly makes Mama Miley happy. Bubba Sue is so soft and pink, like a newborn. We want one.
Miley Cyrus
8. Okay, we're cheating here! Bubba Sue is so cute that we had to feature the pig twice. Mama Miley Cyrus planted a smooch on her latest fur baby! Bubba Sue is adorbs and will hopefully get along fine with the rest of the Cyrus canine clan.
Previous
Next
BEGIN