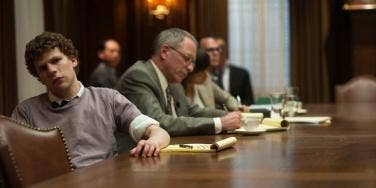 These stars are smarter than you think.
It shouldn't be surprising news, but here's a bombshell for you: Not all famous actors and singers are dumb. Sure, there are a lot that are pretty dim. (Here's looking at Lindsay Lohan, Justin Bieber, anyone who's ever dated Justin Bieber, and any celeb who mixes up "your," "you're," and "yore" and/or "there," "their" and "they're" on Twitter.) But some successful celebrities had to use their brains and their beauty to get to where they are today. It makes sense when you think about it: A pretty face or a buff bod can make you famous, but it takes intelligence and sense to remain relevant for the right reasons.
That said, many celebrities are really good looking people, and really good looking people tend not to have to be that smart. (To any good looking people that get offended by that, sorry but it's true. At least you're good looking though.) That's what makes it kind of surprising when you find out that a famous person is also super smart. Turns out, sometimes people end up famous because they're talented and intelligent. It's shocking, right? Here are 13 celebrities that are not only amazingly attractive, but are actually super smart — and that you wouldn't necessarily expect to be that wise.
Ben Affleck
Ben Affleck got an almost perfect score on his SATs. Too bad his RottenTomatoes.com score isn't as high.
Elisabeth Shue
It took Elisabeth Shue 20 years to graduate from Harvard, but only because she took time off to star in the Back to the Future movies, Leaving Las Vegas, and Piranha 3D, among many others.
Natalie Portman
Natalie Portman is a Harvard girl and also fluent in five languages. Still doesn't make up for her role in Star Wars, though.
Mayim Bailik
Mayim Bialik doesn't just play a smart person, she has a Ph.D in neuroscience. She stars on one of TV's most successful shows, so she's got a lot to brag about.
Steve Martin
Steve Martin supposedly has an IQ of 142. That's smart enough to know how to play the banjo and become successful doing it.
Lisa Kudrow
Known for playing bubbly Phoebe, Lisa Kudrow actually holds a BS in biology and has been involved in medical research, which probably didn't include the study of cats and how smelly they get.
Nicole Kidman
Nicole Kidman has an IQ of 132. She also escaped from Tom Cruise. She's pretty smart.
Kesha
Kesha may not seem like the type, but she has an IQ of 140 and she scored a 1500 on her SATs. If you don't know, that's almost perfect and super hard to do.
Tommy Lee Jones
This famous grump is a Harvard man. So he's intelligently grumpy.
Dolph Lundgren
He might look like a brute, but Dolph Lundgren has a master's in chemical engineering. He also came super close to breaking Rocky.
Matt Damon
Another Harvard man: That's where Matt Damon wrote Good Will Hunting.
Conan O'brien
Conan O'Brien graduated valedictorian from high school and then magnum cum laude from Harvard. He also doesn't have a giant chin.
Sharon Stone
Sharon Stone has an IQ of 156. You'd think she remember to put underpants on with a brain like that.
Previous
Next
BEGIN