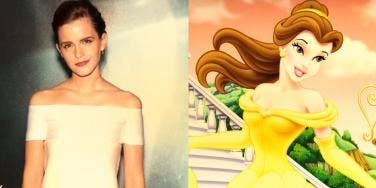 These stars are essentially living, breathing Disney princesses—but not for the reasons you'd think.
Emma Watson being cast as Belle in Beauty And The Beast got us thinking: Disney princesses get a pretty bad rap. Sure, they often have impossible bodily proportions, weird patriarchal relationships and until recently married at 16 and essentially viewed every living matriarchal figure in any given kingdom as wicked, evil and selfish. (Thankfully, modern flicks like Brave and Frozen have made huge feminist strides in Disney princess films.)
But still, you love them, right?
Similarly, celebrities often set pretty impossible ideal for the rest of us: Perfect hair, perfect skin, perfect bodies, pretty much living in castles — they lead a royal life. But just like Disney princesses, sometimes celebrities have their own mishaps, as well as their own unique traits (you'd never really mix up Cinderella with Princess Jasmine, would you?) that make them special and endearing in their own ways.
And some celebrities are basically Disney princesses who came to life. We've rounded up 17 stars who might as well have been born to rule the Magic Kingdom, because their real lives mirror the very fairy tales with which they, and the rest of us, grew up. But before you mutter, "Some broads have all the luck," know that not all of them are princess-like for the best reasons. (And to those of you who want to get technical: No, Wendy, Tinkerbell, Esmeralda and Alice aren't official Disney princesses, but they're close enough.)
Oh, and as far as the Emma Watson as Belle thing goes? We totally called that a while ago. She is absolutely perfect for this role!
Queen Elsa - Charlize Theron
Self-exiled Queen Elsa of Disney's Frozen, meet ice queen Charlize Theron, who tries to get stars of Sister Sister exiled from her SoulCycle class.
Tinkerbell - Paris Hilton
Paris Hilton had a little dog named Tinkerbell that she carried with her everywhere like an accessory, much like Peter Pan did with Tinkerbell. They're both blond, a bit bratty, and are familiar with being held in captivity. Also, they're both capable of seeing pretty well in the dark, but for vastly different reasons.
Princess Tiana - Kerry Washington
Both Tiana and Kerry Washington are hardworking and independent. And they're both gorgeous, groundbreaking African American women, so there's that too.
Wendy Darling - Taylor Swift
Wendy Darling doesn't want to grow up, and from the sounds of most of her lyrics, as well as her petulant behavior towards her teenage exes, neither does Taylor Swift.
Rapunzel - Jennifer Aniston
Rapunzel and Jennifer Aniston both get power from their iconic hair.
Princess Jasmine - Amal Alamuddin
Princess Jasmine is well-traveled, mature and independent. It takes a woman like that to tame a man like George Clooney, and Amal Alamuddin did it. Hell, she should be a queen at this rate.
Princess Anna - Emma Stone
Princess Anna and Emma Stone both share strawberry blond trademark locks, blue green eyes, freckles, great senses of humor and boyfriends they work with.
Mulan - Lucy Liu
Mulan and Lucy Liu can both kick ass (see Kill Bill or Charlie's Angels for proof) and school boys in their own fields, like Dr. Watson does in Elementary.
Megara - Tina Fey
Megara and Tina Fey: Gorgeous? Check. Greek? Check. Clever? Check.
Esmeralda - Lady Gaga
Esmeralda is Romani and plays tambourine. Lady Gaga likes to throw around the term "gypsy," so why not let her reap the repercussions and stigma that go with it and see if she's still singing about it on ARTPOP Vol. II?
Cinderella - Gwyneth Paltrow
Belle - Emma Watson
Belle is a beautiful, elegant, refined bookworm, just like Brown University grad Emma Watson.
Aurora - Blake Lively
Princess Aurora is beautiful but sort of basic, boring and doesn't do much because she's always asleep. That's basically what happened to Blake Lively, only instead of being pricked by a cursed spindle, it was by Ryan Reynolds.
Ariel - Ariana Grande
Ariel and Ariana Grande both have the pipes, questionable contracts (Ariel with Ursula, Grande with flop connoisseur Scooter Braun) and at least onscreen, the bright red locks.
Angelina Jolie - Pocahontas
Pocahontas and Angelina Jolie are both humanitarians who've sought to end wars and the crimes that go with them — and Jolie actually has Native American blood.
Snow White - Katy Perry
Snow White and Katy Perry have a lot in common aside from the black hair, fair skin and red lips. Much like Snow White in her "let me delegate this housework to woodland creatures" dwarf cottage days, in Katy Perry's first record label manufactured persona, she was just "One Of The Boys," taking credit for a lot of work that Auto-Tune, producers and teams of songwriters helped her with.
Alice - Miley Cyrus
Oh come on, you know she's sampled some mushrooms.
Rapunzel - Amanda Seyfried
Both of these ladies have long blond tresses are good enough to catch the attention of princes.
Photo of Rapunzel: We Heart It
Photo of Amanda Seyfried: We Heart It
Merida - Rachel LeFevre
Rachel LeFevre and Merida are stunning with their red, curly locks and green eyes. If there is ever a live show of Brave we will be rooting for Rachel to get the job.
Photo of Merida: We Heart It
Photo of Rachel LeFevre: Tumblr
Sofia - Avery Jennings
Sofia is an 8-year-old princess who is friendly and adventurous. Avery is a young star also on the Disney channel who is smart and driven.
Photo of Sofia: We Heart It
Photo of Avery Jennings: Tumblr
Previous
Next
BEGIN